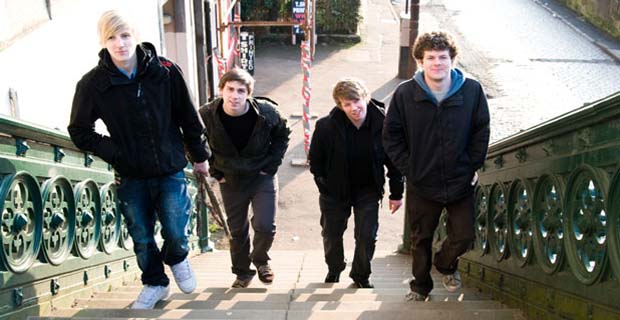 Edinburgh's We Were Promised Jetpacks are busy touring in support of their second album, In The Pit Of The Stomach. They're currently in the US, having recently taken in Europe, Manchester's Deaf Institute, and the rest of the UK. Despite the relentless tour schedule, we managed to interview bassist, Sean Smith. He told us how the new record advances on the last, how he's back living with his parents, and how the trip to America is unofficially being dubbed 'The Moving Out Tour'.
I hear you recently finished a European Tour (Twilight Sad, Mazes) and are heading out on the road again.
It was good. We're good friends with Twilight Sad and Mazes were on there too. I think my favourite part of it was possibly Amsterdam.
Did you manage to see any of the famous sites Amsterdam has to offer?
Actually we didn't this time, but last time we were there with Twilight Sad we were walking about the lake…
I was going to say the Lake District (laughs) – The Red Light District, and walking around seeing how crazy it was but not actually doing anything. This time we ended up just going to a bar and finished by dancing on the chairs and stuff…
So you were almost giving the lap-dances this time around?
Yeah it was definitely a lot more like that – a crazy night. It was good.
httpv://www.youtube.com/watch?v=FBymTi3WTm0
How did the crowds take to new material over there? I presume you were testing it out before commencing the UK tour.
Great. We played a few shows a couple of months ago where I think we played possibly too much new material. Everyone knows what it's like if you go and see a band and they just play new stuff. Fair enough if their album's just come out but if it's a couple of months before you can't really play too much new stuff. On this tour we played half-and-half, and it went down really well.
It must be interesting to see a new song gather in response as the tour progresses and become an established part of the set.
Yes it is. We can already see that happening a little bit too. We played Medicine at a few of these gigs and we noticed a few people bopping along, so they've heard it a few times even though it's only recently come out.
Medicine – as with the whole album – seems to be more textured and layered than the first one. Is that because the first one was recorded live and with this you've had the benefit of using the studio a bit more?
Yeah definitely. We spent a lot of time on this album demoing tracks, listening to it over and over.  We made sure they had too much stuff when they were mixing it rather than not enough, which actually made the mix a tiny bit harder because it was then difficult to know which parts we wanted to keep in.
How easy is it to compromise as a group?
We find it very easy actually. We all get our individual parts done and it seems to work well like that.
When Fatcat asked for another album were you in a consensus as to what you were going to try and make with the second record?
Yeah we never really discussed it to be honest. Nothing ever sounds how we imagined it. It might start with a guitar part but everything ends up being completely different to how we think the song's going to go.
I remember ages ago when Adam first played the intro to 'Keeping Warm' to me I said to him it was good but sounded like The Libertines, and now the track's gone miles away from that. I think we've learned to let it flow and not push anything in one direction too much.
Circles And Squares too is a really assertion of power and a confident way of marking your return.
When we first wrote that we knew it couldn't really go anywhere else on the album. We tried to put it elsewhere but we knew it had to be right at the top.
Is it difficult as a band now to be able to gain attention as you return? With so many acts around can it be hard to be noticed?
This kind of music has changed a lot from just the guitars, drum, and bass line-up but I like how we've just stuck to that when a lot of others are using synths. Some of it's great and can work really well, but some of it is gimmicky.
What did you learn from the first album and how did that impact the way you went about the second?
We recorded it live and we'd rather have not done it like that and it was done in a week which wasn't ideal either. We were probably a bit naïve to be honest. We hadn't really done much recording before that album and we knew we didn't have much studio time.
The sound-engineers were more trying to capture the live energy and I think Fatcat were wanting to get the record out quickly because there was a bit of hype building and they didn't want it to die down and then have an album out a year later. I think from that perspective it worked well because we were really eager to get out on tour and start writing the second one.
How long have you had to write this one?
We spent about 6 or 7 months writing this one and recorded it in November.
What was it like to know you had to come up with an album in that time?
I thought it was strange that no-one else had heard these songs. We demoed them pretty early on but there was a good while when we were the only ones that had heard the whole album and eventually we lost our perspective about what's good or not because we're so close to the songs. Once they were fully recorded and everything was finished that's when we knew they were good.
Who did you play the first demos to?
The first few songs that we sent to the label are the few songs that aren't on the album. Weirdly when we told them one of the tracks wasn't going to be on the album they were shocked because they were expecting it to be the first single.
How did it differ to what made it on to the record? Why didn't you include it?
We just didn't like the songs that much to be honest. We thought the other ten were better.
The label must've been really happy with the final record then if the track they loved wasn't even good enough in the end because the other ten were better.
Yeah I think they were really happy. They never really pressured us. They sent us a couple pf emails saying 'I think this should go on' but we just said they were talking rubbish and they let us put on what we wanted. They're a great label. If you ever have any questions you can phone the head of the label directly and get an answer. I don't think many bands in our position have that.
Where did you record the album?
We recorded it in Iceland.  We were meant to record it in September in Edinburgh or Glasgow but there were a few problems with costing and it was getting expensive…
So it was cheaper to go to Iceland to do it?
It absolutely was yes. The studio in Iceland – I think Fatcat built it with a couple of the guys from Sigur Ros – I think they've sold it now, but know the guys who own it really well.
So did you spend the six months over there then? You must have had a pretty good time.
I wish. No we didn't. But we were there for three weeks and did manage to fit some fun in, but we wrote the album in Edinburgh.
Have you moved back to Edinburgh?
Yeah. We were doing so much touring that there was no point really having a flat. All bar one of us has moved back home.
So you became homeless to go on tour?
Yeah that's right. You get back home and then I've got my little bed in the dinning room which I've made more homely now.
Was Glasgow a supportive place to play when you were there?
At first it wasn't.  There's some nights where the band who sells the most tickets gets to headline. It almost becomes a pay to play situation. We've had that before where we've had to fork out money because we haven't sold enough tickets which is terrible, and there's a lot of that in Glasgow. I remember there being a strange atmosphere at quite a few gigs because of that. After doing that for a while we eventually met people, and folk from other bands and once you start playing the better nights that are put on by decent promoters you find that there is a really good community in Glasgow. When we were at university there were quite a lot of good bands who were all doing quite as well as each other but were all playing different kinds of music so it became a great thing to be a part of.
What are your tours like now? You're not surely going to be sleeping in the back of vans when you tour nowadays…
Oh I wouldn't say that. We've not toured the UK that much previous to this… We've done a lot more in Europe and America. It'll be interesting to see how the shows go because we've not played any gigs, in England in particular, for quite a while now.
We did a three week tour of England not long after the first album came out. I think we played 15 gigs and I couldn't name you most of the places. Some of them were really bizarre places like Portsmouth or something, but they sometimes turn out to be the best shows because people are really appreciative that you're there.
What's it like to play a tour and then head back to your parent's house?
It's great for the first couple of days. You come home and it's like 'ah brilliant', nice to be back, and then after a while you're itching to get out again. Our next American tour we've decided is called the Moving Out tour where hopefully we can make enough money so that we can all move out.
Interviewed by Simon Butcher