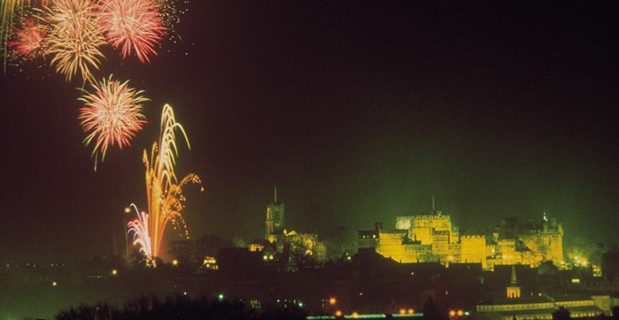 The North is a big place. It get's bigger the more south you go until we become grouped together as "anyone above Watford". Here at Northern Noise we want to see what the forgotten towns and cities have to offer us. So, each month Sophie Lea will keep you informed of all the arse-jingling musical excitement (or lack of) in and about the historical city of Lancaster.
Lancaster is a small University city nestling at the foot of the Lake District close to the idyllic seaside haven of Morecambe (LOL JOKES). I feel fairly uncomfortable calling it a city as it's roughly the same size as your local swimming pool, only you're twice as likely to get wet.
Don't get me wrong, I grew up round here and in the summer it's beautiful, a five minute drive from sublime countryside and has enough ball-breaking historical shit to make Tony Robinson run off to the toilet with a cushion over his knackers.
The problem is that it's so pretty everyone just stays here and doesn't bother venturing anywhere else. Inexplicably to me, everybody here seems to be content with the absolute fucking atrocity that is the Lancaster nightlife.
There used to be a fairly decent alternative scene here not so long ago. Many people will fondly remember Alt-athon; 'Lost' at Toast on a Monday (closed down) or indie fairground 'Cigarettes and Alcohol' at Brookes (now a Wacky Warehouse) or Electro/New wave 'Disconcertion' at Cuba (I kid you not, a children's soft toy play area).
All these and the plethora of copycat nights that were buzzing around circa 2006 were set up and run by students from the local University and unfortunately for the rest of us, students tend to fuck off as soon as they've got their degree.  Gradually everything fizzled out and the new generation has seemingly failed to muster enough imagination to organize anything more thoughtful than the inexhaustibly hilarious Pub Golf.
Let me set the scene for you: It's Saturday night and Yates's is full to the brim. The females, splendiferous in Ronseal orange, tit about in their playsuits, screeching Rihanna at each other, wiping gravy from their chins, dry humping furniture, the air, their mates, their mate's boyfriends, their mates boyfriend's dads and generally highlighting exactly why we didn't have the right to vote.
I'm well aware that it's like that in most city centres on a weekend, I've seen Booze Britain. The trouble is, Lancaster has no alternative. You have a choice of R&B in Revs, R&B in Yates's, R&B in The Lounge and Dubstep in The Sugarhouse (With R&B in the main room). And we're not talking Marvin Gaye here.
What of the locals then? Surely we should be doing something for ourselves?
Well to be fair there is a sizable amount of creative activity going on. There's places like The Storey Institute and The Gregson offering the community a place to come and try anything from poetry and stand up to yoga and interpretative dance. (There are a hell of a lot of aged hippies round here, you can barely move for fucking tie dye and Joss sticks).
Then we have our local music boozers. Places like The Stonewell, The John O'Gaunt, The Robert Gillow, The Bobbin and The Yorkshire House (amongst others) have regular live music events such as open mic nights and local music showcases. I particularly enjoy The Stonewell's bi-annual mini music festival where there's everything from drumming bands and jazz sessions to live theatre and spoken word. The beer is quite palatable as well.
Once a year there is The Lancaster Music Festival held in October. For three days, Lancaster awakens, with live music heard lingering from practically every venue day and night, all weekend. It has a really nice atmosphere and gives us the rare opportunity to sample sounds we might not have thought we'd enjoy. It's a pity it's just one weekend a year, because this is the sort thing our city could do really well.
The local live scene has a real sense of community and I'm grateful for the opportunities it's given me to perform. My issue lies with just how insular it can get. It's a small town with a small town mentality. Local bands are heralded in some cases rightly, but in most cases unfairly with emphasis put upon a very small group of people who have dominated the scene making it difficult for others to break through or try anything new. Nobody seems to want to reach for anything bigger. If you want to see anything even remotely well known, you better head an hour on the train to Manchester or you're going to have a pretty baron diary.
This is why I'm so indebted to this last factor of Lancaster life. The saviour and possessor of the last remaining fragments of hope for bringing the outside in.
Get It Loud In Libraries
Some years ago a group of people at Lancaster Library decided to hold a music event in aid of the ailing facility and promoting music in a new and interesting way. The first gig was by a little known singer called Natasha Sohl. It attracted so much curiosity that the next band The Long Blondes sold out and it rocketed from there. Since then it's played host to a smorgasbord of musical delights. With the booker's canny ability for predicting the next best thing it's staged everyone from Adele, Florence And The Machine, Noah And The Whale, Ellie Goulding, Marina And The Diamonds and Bat for Lashes to King Creosote, Summer Camp, Slow Club and Everything Everything.
Taking place inside the library itself, amongst the books, it provides a unique opportunity to enjoy the music up front and personally and without the distractions of a busy bar, manky toilets or sticky floors. Events do sell out pretty quickly as you can imagine, so it's best to be kept informed by signing up to the mailing list on their website.
Maybe I'm missing a trick and there's actually some shit-hot Mexican New Rave Prog-Jungle night being held somewhere that I've not heard. Give me a second and I'll dust off my neon Sombrero.
Sophie xx
Want to talk about your town? Go to the contact page or hit us up on twitter/facebook and let us know.