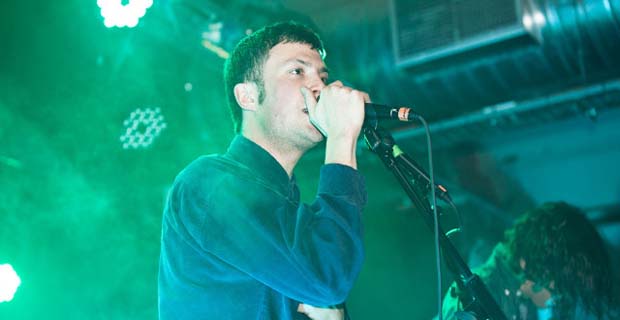 South London indie swoonsters The Maccabees will be playing pride of place on the NME/Radio 1 Stage at Leeds Festival this year. With 2012 release 'Given To The Wild' fresh on the lips of the critics, how have the band progressed and what should we expect from a live set?
In May 2007 the face of indie changed just that little bit, with the introduction of 'Colour It In'  hitting the mainstream. A solid combination of twee yet sincere lovelorn poetry and jagged guitars, tracks such as 'First Love' and 'Latchmere' gave a generation of Skins fans and skinny jeans sporting urbanites a new scene of romantic post punk to cling to. Ignoring the hipsters and taking the band at face value, you are presented with a strong first album, with quaintly rough edged production and thoughtful melodies. The Maccabees hit upon a new wave of sound and Orlando Weeks' beautifully tender vocals melted many a young girls' heart.
The second album 'Wall Of Arms', released in 2008 saw a different, more mature sound from the boys. Orlando was quoted as saying they moved away from the amorous yearnings of the first album, and presumably in a different state of mind, concentrated on the other things he found important such as the family connotations in title track 'Wall Of Arms'. Perhaps the track with the most airtime 'Love You Better' was a return to form, but as a whole the record showed a different direction and a more thoughtful composition.
Their latest album 'Given To The Wild' follows trend and again shows a new level of maturity.  Far from the beginnings of the angst ridden thrashing that burst onto the scene proclaiming heartache and disparity, this record has an uplifting blend of learned wisdoms and an expansive finely produced wave of serenity. Tracks such as 'Pelican', show a sensibility unpredicted from a band born aloft the frustrations of youth. Tracks such as 'Child' and 'Glimmer' bare similarities to the more orchestral offerings of Arcade Fire or dare I say it Coldplay, hinting that the band have higher platforms in sight.
The Maccabees may have lost their edge, but have gained a better understanding of song writing and their live performances have always been an engaging experience.
If you are going to Leeds, then you have absolutely no excuse not to watch them and melt.
words by Sophie Lea (@gingerspider)
http://www.youtube.com/watch?v=DUEEyrnLb0M
Follow us on twitter and facebook for all Northern music news.