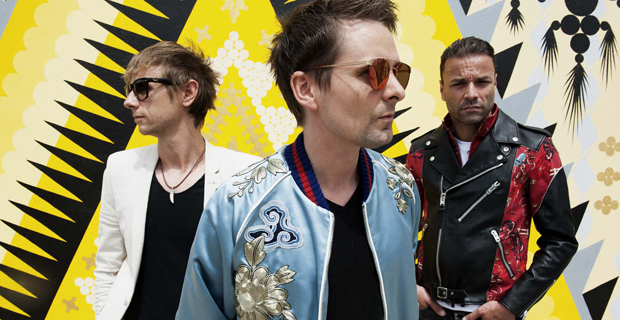 Leeds Festival is a well-loved, annual event and it's approaching very soon. It takes place over three days, starting on Friday the 25th of August until Sunday the 27th of August. It's sure to be a weekend of festivities which celebrate an abundance of musicians and different genres of music. Its headliners certainly reflect this as they include rock gods Muse and Kasabian who are joined alongside prolific rapper Eminem. Check out our Essential Playlist below…
Muse – "Supremacy"
Headlining the Main Stage are certified rock legends, Muse. It's without doubt that they're going to be an unmissable act. With a career that spans two decades, the trio have constantly proven themselves to be pioneers of the rock music genre. "Supremacy" is a compelling pick from their body of work. It was released as the fourth single from their second album The 2nd Law in 2013. It's a grand and powerful combination of orchestra infused hypnosis, insane guitar riffs and mesmeric vocals. The message of the song relates to the unravelling of authority. It's captivating music video takes this one step further by putting the spotlight on humans and how we could lose control of the world as we know it. With a recently released single in May and a rumoured album out next year, the anticipation for Muse's set continues to rise. Since they continue to captivate the ears, eyes and minds of listeners and viewers alike, their supremacy most certainly isn't in jeopardy.
Charli XCX – "3am (Pull Up)"
Keep your eyes peeled on the BBC Radio 1 Dance Stage because Charli XCX is an artist you need to look out for. She's fun, badass, a little quirky and undeniably talented. Her song "3am (Pull Up)" from the 2017 mixtape Number 1 Angel is a powerful and relatable anthem. It explores the sadness in everyone's lives in relation to going back and forth between love, heartbreak and everything in between. Its poignant lyrics sound as if they're coming from a duo of empathetic friends, as the synth pop track features Danish musician MØ. The girls infer that no matter how great someone may have seemed initially, if they've hurt you repeatedly, you can be happy by putting yourself first. Although, it's common to be enticed and won over by the temptations of lust. It's a gem amongst many musical diamonds in Charli's discography which emphasises that she's one to watch.
The Pretty Reckless – "Miss Nothing"
The Pretty Reckless are one of those bands that'll bring out the rock and roll side out of everyone. Lead singer and former film star Taylor Momsen, (yes, she's the Grinch's Cindy Lou Who, all grown up), is the perfect combination of pretty and reckless. Her powerful vocals compliment the insane instrumental talents of the group. "Miss Nothing" is from their debut album Light Me Up which was released in 2010 and highlights their ability to grab attention. It's a song about facing an identity crisis when you've lost someone. The despairing lyrics and enthralling rock beat are like an unforgettable, yet thrilling, punch in the face. In true form, Taylor takes centre stage in its accompanying music video. She plays the somewhat controversial part of Mary Magdalene and causes a ruckus amidst surroundings reminiscent of the Last Supper. No doubt, their set will be show stopping.
ALMA – "Chasing Highs"
ALMA is the neon haired Finnish singer who's on the brink of mainstream success. After finishing fifth in her home country's version of Pop Idol, she's found her home among the big names of the music industry within the UK's Singles Chart, as well as other countries across Europe. "Chasing Highs" is an upbeat pop and dance song which was released back in March. It continues to grow in popularity and is sure to be a big hit amongst the crowd. It will surely relate to a lot of the festival goers too. Its themes focus around being up late, losing track of time whilst you're going here, there and everywhere until you finally come across someone that you instantly connect with. The track proves her hair won't be the only talking point of her performance. She won't leave you chasing for long as ALMA's sure to be a high-light of the festival.
Liam Gallagher – "Wall of Glass"
Liam Gallagher hasn't been a stranger to the masses and may be as well known for his performances as he is for his outspoken views. The famed Mancunian has stayed true to his roots and recently released the indie/alternative rock track, "Wall of Glass". It's his first solo single from debut album As You Were. The song criticises those who attempt to hurt and knock down others. Gallagher empowers listeners by saying that those who intend to do so will fail. He proclaims that they'll be the ones who'll metaphorically shatter like glass. Since performing it live at Ariana Grande's One Love Manchester concert it's sure to unite the crowd. It's presumed that fans of his are as excited to hear some Oasis classics as well as more new material. With hits like these, the former frontman is sure to be one of the most popular artists of the festival on Friday night.
Major Lazer – "All My Love"
"All My Love" is an EDM and electropop track by the trio of DJs and producers collectively known as Major Lazer. As well as appearing as a remix on their third album Peace Is the Mission in 2015, it's also a part of the soundtrack for The Hunger Games: Mockingjay, Part 1. Ariana Grande and Machel Montano are featured, providing the energetic track with a fusion of pop and soca music flare. The message of the tune toys with the idea that no matter how hard a relationship may be, love is worth it in the end. It may seem deep, but Major Lazer's talents in production ensure each of their songs are fast-paced and fun, making them great to listening to and enjoy. Their set on Sunday's Main Stage is sure to be filled with an abundance of energy, creating a lively and unforgettable atmosphere.
Wiley – "Take That"
Wiley is best known for being a key contributor to the grime music genre. He'll be appearing on the NME/Radio 1 stage where he could treat viewers to new music from EP Wiley vs Doogz. He performs on Friday the 25th of August and revealed on his Instagram profile that it drops the following day. "Take That" is a track that was released in 2009. It's grime-meets-electro-house as it was produced along with DJ Chew Fu. The song is significant within his catalogue of hard-hitting tracks because it highlights his undeniable influence on the music industry. Like a lot of Wiley's material, the song alludes to his fiery attitude and demonstrates his ability to get people moving and chanting along with his infectious lyrics and beats. After listening to it, you're sure to have the phrase 'take that' in your head for a very long time. With that said, it's fair to say that the MC won't disappoint.
Haim – "Want You Back"
It's no surprise that Haim are blessing the Leeds Festival crowd as one of this year's acts. They've been the only musical trio to grace the airwaves and revel in ongoing success recently. If they continue, they could solidify themselves amongst iconic threesomes within pop culture. Along with the Charmed sisters, a common factor they share is girl power. Without doubt, Haim always appear united and fearless. Their lead Single "Want You Back" from the group's second album Something to Tell You is a catchy track that doesn't mince its words. It's a relatable song that reflects on relationships that haven't gone to plan. The girls admit that they may have made mistakes but want to move past them and reunite with that one special someone. In addition is a cleverly shot music video, all filmed in one take. It's confirmed, Haim are great.
Bastille – "Of The Night"
Indie band Bastille are no stranger to the eclectic festivities of Leeds. They performed at the festival back in 2015. It's a joy to see them back as they released their second album Wild World at the end of last year. Their single "Of The Night" was released four years ago, it was the lead single from a re-release of their first album All This Bad Blood. It showcases the mix of innovative and infectious musical abilities that the band have on offer. The talented quartet chose to cover and combine two well-loved songs, "Rhythm Is a Dancer" and "The Rhythm of the Night." It resulted in the track charming listeners, becoming successful and charting worldwide. Lead singer, Dan Smith, has a recognisable, husky and attractive voice which flirts with the energy of the group's instrumentalists. That's what makes them distinct and interesting. They're sure to get people's pulses racing yet again.
Katy B, Chris Lorenzo – "I Wanna Be"
Although she may be best known for her vocal talent, Katy B was originally going to be completing at DJ Set at Leeds Festival this year. Unfortunately, she pulled out. Good news is, one of her collaborators, producer and fellow DJ Chris Lorenzo, will be performing instead. He'll be taking to the BBC 1 Radio Dance Stage on the Saturday of the festival. Last year they released the joint track "I Wanna Be", taken from Katy's third album Honey as its fourth single. Without doubt, it showcases both of their talents. The house and dance track, which was originally produced by Lorenzo as an instrumental, is complimented by Katy's powerhouse vocals. It's fate that they both found each other since their combination of talents produced a banger of a tune. Katy's voice may tug on the heart strings of listeners, but Chris's musical mastery triggers the dancefloor in everyone. His set is guaranteed to do the same.
Words by Calum McDermott (@Bearded_Bitch)
Going to Leeds Festival 2017? Best read our list of Leeds Fest dos and don'ts first. Not got tickets yet? Buy them here.
Keep up to date on all the latest Northern entertainment news by following us on Twitter, Facebook and Google+.