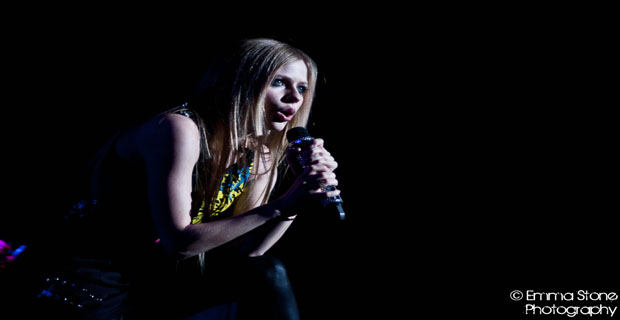 Performing to a completely full venue, Avril Lavigne closes her Black Star Tour tonight at Manchester Apollo. The first three songs are off her latest album Goodbye Lullaby which slightly alienates some of her older fans, but newer and younger fans join Avril in holding aloft glowing green star wands during opening song Black Star and ecstatically sing along during What The Hell.
She throws in a couple of covers during her set, the first being B.O.B ft Hayley Williams' hit Airplanes. Had I been in her position, I'd have felt a little awkward choosing this track; it's almost as though she's trying to capture some of the glow emanating from Williams' ongoing successes. However, she merges it with My Happy Ending, a wise choice as it's one of the first recognisable older tracks she plays.  To celebrate her love for England, she does justice to a cover of Coldplay's Fix You, yet despite there being a grand piano on stage, she opts for sitting on top of it to sing rather than playing it herself, and also manages to forget some of the lyrics at the start.
Following it closely with her most mature and sentimental song to date, Wish You Were Here, (released 16th October) these two songs sung back to back make for an emotional ten minutes.  Every two or three songs, she walks offstage leaving the band to cover her disappearance with instrumental pieces, the longest being a 5 minute instrumental version of Unwanted, a song that I'd imagine most fans would have rather seen her singing on.  When she re-appears, she launches into Girlfriend, probably the most immature and tedious song she's ever written, but a popular track none the less.  Despite it's upbeat tempo, she doesn't put a lot of energy into it, with only a little bit of jumping on the chorus, just as it has been for the rest of her set.
Finally, she plays a song from her debut album, and there's no mistaking Sk8er Boi when the guitars kick in. I'm With You ends things on an emotional high as Avril closes her main set, but it's not long before she's back for an encore that includes one track from each of her fan fave albums. I Love You from Goodbye Lullaby, the romantic When You're Gone from The Best Damn Thing and of course the Let Go track that introduced her to so many of tonight's fans, Complicated.
Words and photography by Emma Stone. You can find more of Emma's photography by clicking here.