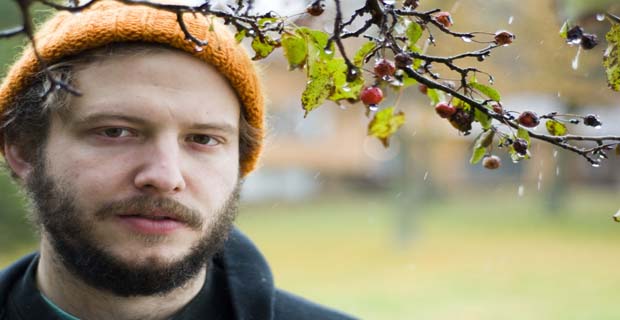 There are gigs and then there are gigs. Bon Iver's performance in front of a packed out Manchester Apollo falls neatly into the latter.  As ticket holders take their seats at this all-seated and very much sold out show, an air of anticipation fills the theatre. You can guarantee everyone in attendance tonight has had this date circled on their calendars for months.  No one quite knows what to expect, but they know for sure that it'll be something special.  As Bon Iver quietly sqeeze onto a stage overrun with instruments they're greeted by a warm Mancunian cheer.  What better way to kick off their UK tour.
The gentle looping riff of new album opener Perth sets the scene nicely.  Frontman Justin Vernon pulls out the trademark Bon Iver calm – that icy, dream-like haze that made their unforgettable debut so atmospheric.  But he's not alone tonight; in fact he's far from it.  Joining him on the stage are seven other musicians and they soon make their presence known.  Storming through the majority of their eponymous second record, Vernon's backing band provides a new dimension to Bon Iver's sound.  Two drum kits, a horn section and a touch of synth give tracks like Minnesota WI, Hinnom TX, Bloodbank and Calgory a lush, decadent quality while a minimal yet hugely effective light show gives tender offerings like Hollocene, Towers, Michicant and Beth / Rest a haunting resonance that won't be soon forgotten.
Tonight's show marks the first time Bon Iver have toured their new record outside of US soil. However, the band haven't just come prepared with a guided tour of their new material.  Older tracks, responsible for putting the band onto the musical radars of tonight's attendees, are peppered throughout their set.  Delicate tracks like Flume, re:Stacks and Creature Fear reminded Manchester why they fell in love with Bon Iver in the first place, while a touching rendition of For Emma, Forever Ago closes out their main set.
It's not long before thunderous applause pulls the band back on stage for a stripped down performance of Skinny Love, leaving Manchester speechless.  However that silence is short lived. For his next trick Vernon enlists the help of this Northern crowd for a group sing-along of The Wolves (Act I and II) ending tonight in a chaotic, melodic climax. Fans subconsciously rise to their feet for a standing ovation as Bon Iver leave the stage. There are gigs and then there are gigs. There's no doubt that this one was most certainly the latter.
Words by Simon Bland.