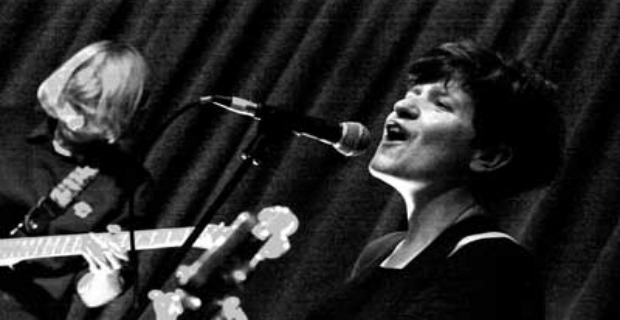 The arse end of the weekend, a cold, wet, miserable, Sunday night when the streets of Manchester are by and large deserted apart from the lonely souls looking for any spare change or a place to bed down for the night. Shards of sunshine may be in short supply, but in Carefully Planned we trust. Tonight's artists seem to been influenced with architectural themes, from Two White Cranes one of a number of projects that involves Roxy Brennan.
The microphone stand appears to be mounted slightly too high for the barefooted Brennan as she stand alone on the stage, but it seems as though she uses this situation to control the intensity of her vocal delivery. Stood shoeless and flatfooted, she's in a relaxed, comfortable scenario, such as when she is describing the environment of streets around her hometown of Bristol, hence the reference to the two cranes. On her tiptoes, she's in a more intense mood, reigning in the aggression she wants to express. The guitar chords echo those of Billy Bragg on "Levi Stubbs Tears", and is she acknowledging Springsteen influence with the refrain 'Baby you were born to run'?
Furlong normally appear as the duo of Thom Snell (drums) & Richard Cartwright (guitar & effect), but they have been touring with Zach Roddis, a spoken word artist who performed in his own right earlier, and now shares the stage for a few numbers. As befitting the variety that normally appears on a CP line up, Furlong are nothing like any of the other bands that appear on the running order. "I'm not happy you're sad"; announces Thom, sentiments, which seem at odds with the warm, engrossing tones flowing out from the array of numerous effect pedals across the venue
Having had time to perfect their sound at numerous gigs Uranium Lake have developed a core of followers who are present tonight. Sharp, shiny and perfectly formed indie pop songs chime out from the trio as their supporters sing along to the lyrics. Even those present unfamiliar with their work are tempted into moving their hips and shaking a leg.
Brennan appears again tonight playing bass guitar and sharing vocal duties in Trust Fund, along with Rosie Smith (lead guitar), Grace Denton (drums) whilst Ellis Jones fronts the outfit with his guitar & vocals. There's an enjoyable lo-fi effect to some of the songs but that's probably the result of a lot of hard work, including having their debut album recorded and available. Duetting seems an incongruous word for the way that Ellis and Brennan share lyrics on some songs; it's more like two people exchanging banter whilst Denton & Smith provide the backing soundtrack. The songs fizz and Sunday nights don't seem so bad after all
Words and photography by Ged Camera.
Check out our gallery below: 
Keep up to date on all the latest Northern entertainment news by following us on Twitter, Facebook and Google+.