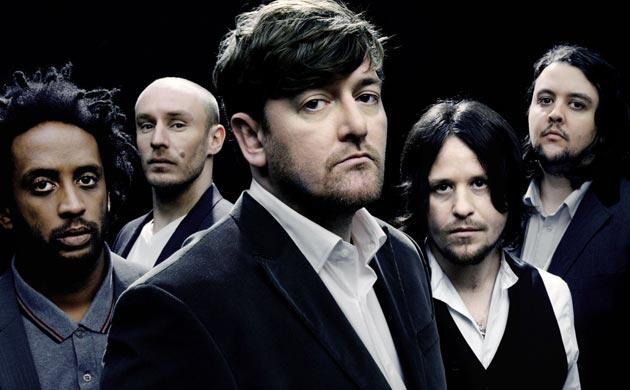 The ever-swelling mass of people lined up outside Camden's KOKO club couldn't represent Elbow's evolution from 90s Britpop dream to new prog. indie pioneers any better. It's 7pm on a nippy March night and the girl in front has been queuing since three.
This is a taster gig for the Manchester band's long-awaited album Build a Rocket Boys!, their first appearance in 18 months and their last before the record's release ­– so expectations are palpably high. What's nice about an Elbow gig, though, is that the vibe is still relaxed. The crowd is an eclectic mix of buzzing students, chilled professionals – even a few over 50s leant over the barrier – and they can all sip their premium-priced lagers in a cool, anticipating harmony because they know Elbow will deliver.
The quintet was down by one, with keyboardist Craig Potter MIA (calm down, not literally).  But frontman Guy Garvey and co. were suited and booted as ever: hair slicked back, waistcoats donned, pointy shoes shined, cufflinks and all. They kicked off their songs of experience with eight-minute epic "The Birds", accompanied by an equally polished and angelic string quartet.
So how is it that almost every Elbow number is an anthem? One of those normally oh-so-rare tracks that penetrate the deepest chasms of your very soul, jamming it with warmth as you find you've involuntarily slung your head back and closed your eyes in an attempt to capture a mere breath of its essence? Hmm? Well, the simple but hypnotic guitar riffs, mouth-watering sung harmonies and eerie strings can't hurt. And with 'The Birds' in particular, there's an intrinsic link between melody, choice and utilisation of instruments, and subject matter. This song is, shock horror, about birds. But you'd know that even without the lyrics, in spite of its subtle air. There's a dreamlike quality to it, and listening to it, you feel like you're flying. Eight minutes is almost not enough.
Garvey bows at the end of this one and gasps "that's better" while the audience goes mental. Despite the sell-out status, there's space to move about in the decadent old theatre, and applause bounces off the balconies. The next number is a well-deserved and much-needed chill out. 'Lippy Kids' is all keyboards and whistling, a gentle look back at childhood, and you can tell Elbow love it. A key track for the album's nostalgic theme, it's a gorgeous listen.
Just like the 'Grounds for Divorce' of its day, the new single 'Neat Little Rows' is patiently-awaited and received with mammoth approval, hands in the air and sing-along. Garvey sits with his back to the audience to play the keyboard parts, his sizeable frame perched on a small stool, beads of sweat trickling down his collar, all-the-while still singing, only adding to the sheer commitment of it all. Mark Potter's rocky guitar, the sing-song church bell effect and lyrics "lay my bones in neat little rows" all juxtapose each other beautifully. Here's a track where without the lyrics, you'd be totally lost – but in some kind of incredible reverie you'd never want to end.
Next up is 'Grounds for Divorce' from previous album The Seldom Seen Kid. As the intro plays, the crowd go wild and this is when Garvey starts to interact with them on a more personal level. The beauty of a small venue means that he can point back at the people that point at him, and he gets everyone clapping to the prolonged intro, shouting "all together" as the lyrics start up. Despite his stage presence while performing, Garvey is a modest compere between tracks, a comforting reminder that the band has remained grounded, even with success. The string quartet returns for the mournful yet hopeful 'The Loneliness of a Tower Crane Driver' from The Seldom Seen Kid, nicely offsetting 'Grounds'.
Garvey replies shyly to yells of "I love you" and "you're gorgeous'" before stating that the next new track, 'Open Arms', "requires a degree of patience and hush". It starts off placidly enough, with strings and twinkly synth but, naturally, launches into a loud, anthemic, forward-looking chorus.
Elbow choose to end on 'One Day Like This' from The Seldom Seen Kid, an opportunity for the strings to shine and a really strong and optimistic finish. Bassist Peter Turner works the synth and the audience claps, hands-over-head, as the tune comes to a climax and everyone drinks it in.
This set has only further confirmed that Elbow are just great musicians. And together with their down-to-earth, kitchen sink lyrics, the end product is profound – they really are the people's band. As Garvey wishes everyone a "lovely, safe, wonderful, warm life" and everyone from young girls to middle-aged men scrabble up to the stage to try and grab drumsticks, the set list, anything, it's patent that both Elbow and their audience are safe in the knowledge that this flawless fifth album simply can't fail.
Words: Mia Bleach