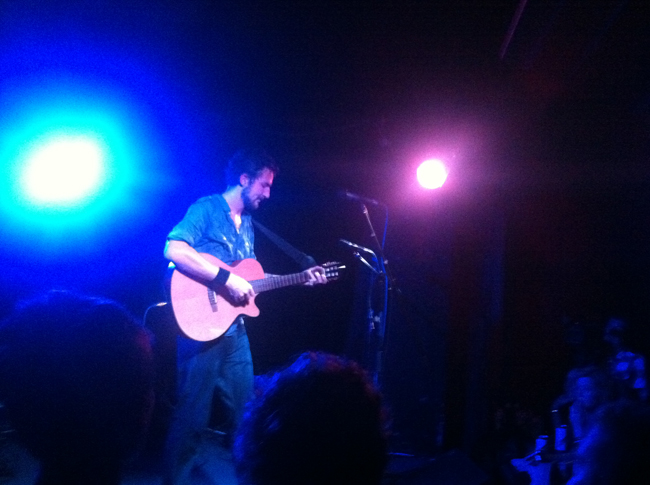 It wasn't just political teachings and life lessons that Frank Turner was giving at  Night&Day Café last night, he was also dishing out tuition in crowd participation. Everyone in the enthusiastic Manchester crowd left with a complimentary GCSE in leg clapping and an A-Level in Air Harmonica.
Starting as he meant to go on, Turner introduced himself and then jumped straight into it.  Crowd favourite I Knew Prufrock Before He Got Famous got everyone into voice from the first chorus, followed up with more of his sing-a-long classics Try this at Home and The Real Damage.
Frank then outlined the structure of the evening – a few new songs, a few old ones songs, plus the usual banter and conversation that fans have come to expect from a Frank Turner gig.  New track and a tribute to his beloved grandma Peggy Sang The Blues was up next, teasing fans with what to expect from his new record England Keep My Bones.  This glimpse of new material went down well with fans leaving them dreaming about the possibilities of the fully fleshed out album version.
Along with this song Turner played four new tracks in total including I am Disappeared, Nights Become Days and English Curse all of which have a very different feel.  Nights Become Days – which frank played on his new guitar – almost silenced the very lively crowd. Lyrically it's a beautiful song boosting anticipation levels for a new album that can't come soon enough. Newer tracks were mixed with a selection of greatest hits providing an excellent atmosphere to the evening.
Crowd participation was a main topic of conversation with Turner giving everyone lessons in GCSE leg clapping – a Frank Turner solution for all those rhythmically challenged clappers – where by the crowd clap along to the stomping of his leg. Lessons continued with the air harmonica, with Turner urging the crowd to mime their finest harmonica playing and then put their newly acquired skills into action during Dan's Song's mouth harp solo.  His musical lessons proved a great success and by the end of the show Turner had the whole crowd sing the entirety of The Ballad of Me and My Friends while he stepped away from the mic.
As an added extra Turner threw a couple of covers into the mix playing Bruce Springsteen's Thunder Road and collaborating with supporting act Ben Marwood to perform The Postal Service classic The District Sleeps Alone Tonight. Both covers proved instant audience hits.
All in all everyone in the Night and Day Café left feeling extremely lucky to have secured tickets to this intimate show. With Turner playing over an hours worth of his most loved tracks, two covers and four new songs, nobody in the crowd could feel anything but delighted to have witnessed what felt like quite a special gig.
Words and photography: Stephen Skelly