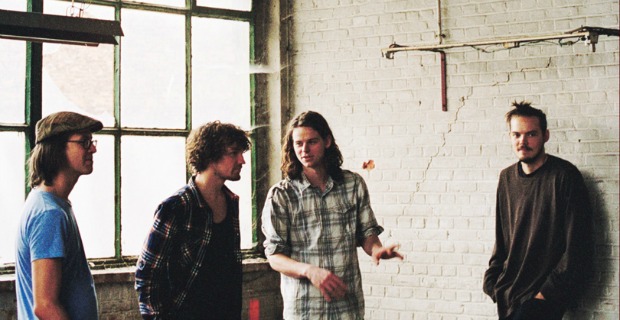 When an international band visit a British city as musically rich as Manchester, it could go one of two ways. Half Moon Run, an indie-rock-folk quartet from Western Canada, do not have a huge name for themselves in Britain. Their music is not played 45 times a day on Radio 1. However, what they do have is a following so loyal, that all UK dates of their tour sold out quicker than you can say "Call Me in the Afternoon".
Hailing from Montreal, Half Moon Run began their musical careers dragging their gear around on a cart and playing for free. With roughly 60 hours a week of practice, or "jam space" as drummer Isaac Symonds refers to it, it's no wonder the band have seemingly sky-rocketed into our atmosphere.
Since they formed, they've earned a handful of reputable support slots, such as City and Colour and Of Monsters and Men. Now, three years since their debut album was released, there they were: playing to the packed out Gorilla Manchester, which doubles as a gourmet burger restaurant and bar. Every crevice of the room was taken up by bodies and the crowd extended up the stairs and around the side of the stage. Anticipation and excitement levels were so high that everyone crushed forward and there was no room to swing a cat. The four boyishly good looking members ascended onto the stage, prompting unsurprising raucous applause and gallant cheers.
The band hurled into their set with the beautifully empowering "Turn Your Love", a favourite from latest album Sun Leads Me On, which was released earlier this month. The album may be a grower, but their live performance certainly isn't. One would think that with such a recent release, the crowd would not have time to learn the lyrics to the new songs… and that's where one would be wrong. It was at this moment that everyone sang along and gazed in awe at the stage, knowing full well that this was going to be a special evening.
"Devil May Care", a folky, catchy gem doesn't sound like typical Half Moon Run, but it completely comes alive when performed. Frontman Devon Portielje and Conner Molander (keyboard/guitar/harmonica) positioned themselves centre stage around a mic, in a way that The Libertines once did. With a single spotlight planted on them, out came those trademark harmonies and intricate guitar playing. Think Johnny Cash meets Mumford and Sons in a moment so intimate, that the audience seemed to melt away and they were the only people in the room.
Bands that are humble, emphatic and demonstrate genuinely impressive musicianship are difficult to find, but Half Moon Run are a melting pot of each of these things. It's difficult to describe how a four-part harmony or guitar riff can surround the whole crowd in a content and love-filled bubble, but it happened. The crowd was a strange mixture, made up of groups of friends in their 20s, couples in their 40s and beyond. There doesn't seem to be any set demographic that Half Moon Run aim to musically ensnare, and the cult of randomers that they attracted proved that.
"Hands in the Garden" is the second single from the most recent album, with a sugary sweet chorus and angelic 'oooohs' and 'aaaahs'. It was a beautiful moment when what seemed like every member of the crowd chimed along in a sort of mellow, yet excitable trance. The track took a groovy turn, with layered vocals and majestic harmonica solos all over the shop.
At some moments everyone was stock still, gazing open-mouthed at the band and wondering how everything could be so perfectly rehearsed. At other times, the crowd just let loose to the catchier pop songs, such as fan favourite and first single "Call Me in the Afternoon". Portielje banged on drums along with fellow percussionists Dylan Philips and Isaac Symonds, whilst the lights flashed meticulously in time with the beat.
Throughout, Devon Portielje pushed himself and consequentially sounded even stronger live than on their respective records. Saying that, each member went above and beyond to put on the most enthusiastic show possible, and somehow made something so difficult look awfully effortless.
When talking to Northern Noise, Isaac Symonds said touring a new album isn't easy: "The singles get a big reaction because we've toured them for three years, so everybody knows them. We've come out with this new album and nobody knows the songs yet. We're not Rihanna – we're not going to drop this song that's instantly the catchiest thing ever, y'know?"
"Consider Yourself" is definitely the grooviest, most tenacious song, with grungy basslines and its own electric pulse. Think: Half Moon Run's take on the 80s, making the hairs on the back of everyone's neck stand up. It was a surprise, as it's a far cry from the folky, melodious and sultry tracks Half Moon Run are known for.
The encore cemented what everyone already knew: that the crowd were not letting the band get away that easily. Following insistent cries for more, Half Moon Run returned to the stage to give a high energy rendition of "Full Circle", and the opening jangle of Molander's guitar was enough to light a firework in everyone's bellies.
A technical problem made Portielje wary of continuing with last part of the show, but following persistent calls from the audience, Half Moon Run performed The Band's rendition of "I Shall Be Released", which wasn't particularly necessary following the colossal songs prior. No one seemed phased though, as they were probably still bubbling from the effervescent encore.
It's undeniable that on that evening, Manchester wholly approved of Half Moon Run. The stereotypically 'difficult to please' and 'set in their ways' Mancunians were spellbound by the Canadian indie folksters, and rightly so.
It also seemed that the band themselves reciprocated the feelings, when Isaac Symonds commented: "The English North is such a happening place – we were in London last night, and they don't go completely wild. When you go to a bar here, everyone makes sure you have a beer. It's like a community."
When asked about what success is to him, Isaac Symonds said: "Success is happiness. That feeling you get to make someone's day… it's priceless. If we're billionaires but we're unhappy, then it ends. It's over."
Words and interview by Samantha Ewen (@FakeTalesofSam).
Keep up to date on all the latest Northern entertainment news by following us on Twitter, Facebook and Google+.