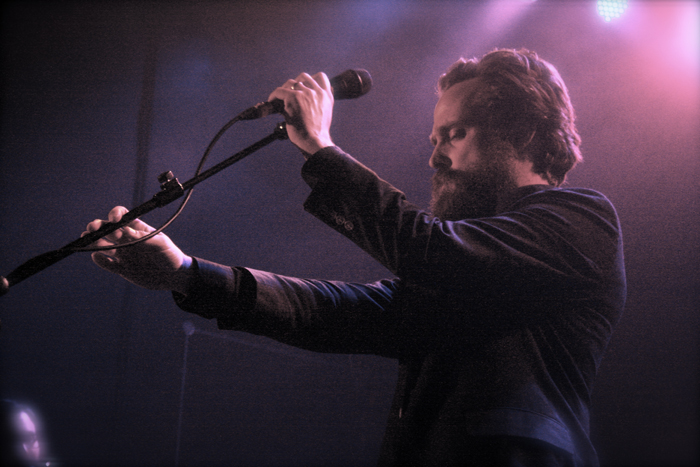 Couples everywhere.  What is this, a rock concert or a Valentines Day dance?  It is, in fact, a concert, despite what this Mancunian crowd would have you believe and we're all here waiting patiently for Samuel Beam or as he's better known, Iron & Wine.   His latest album Kiss Each Other Clean continues to turn the volume up an extra notch from an artist whose earlier work would almost entirely populate a sleepy-time mixtape.  That's meant in the best possible way of course, Beam's whisper lipped sound and gentle harmonies take on a new dimension with the backing band he's enlisted, making for a louder than usual live show.  These couples aren't going to know what's hit them.
The lights dim and out of the darkness emerges Beam with the rest of his touring band, quickly engulfing the small Academy 2 stage. Saying a quick hello to the eager crowd, they rip into a punchier take of 'Boy With a Coin' from 2007's The Shepherd's Dog.  Looking like Zach Galifianikis' sensible older brother Beam cuts an impressive figure with his smart clothes and Grizzly Adam's facial fur. "I Love you're beard!" shouts an excited female fan from somewhere in the darkness, "Thank you, I like your beard…" replies Beam with a smirk, "I'm just kidding…" he laughs. Dipping into the rich well that is  his back catalogue, tracks 'God Made The Automobile', 'Tree By The River' and 'House By The Sea' are performed with admirable gusto and prowess, with the latter effortlessly bleeding into 'Woman King.  Anyone expecting a night of easy listening is sure to be disappointed.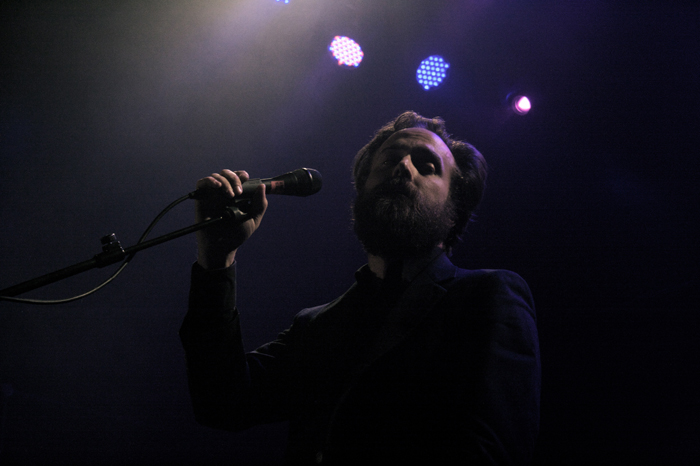 Then suddenly a change of gear.  As the noise from the stage slowly floats away a new sound emerges barely audible above the ramblings of the crowd. It's Beam's acoustic guitar gently picking the opening riff of 'Fever Dream'.  Stillness arrests the audience – a bout of sudden intimacy that would make a pin drop sound like a thunderstorm.  It now becomes obvious why there are so many couples here…They revel in the moment, taking the opportunity to embrace and sway to Beam's hypnotic voice.  The show continues in this manner for the next twenty minutes, volume-punching excitement followed by bare-bones tenderness.  New album track 'Big Burned Hand' makes fine use of its saxophonist with the song verging into funk odyssey territory while a rendition of 'The Devil Never Sleeps' keeps the party going.  'Free Until They Cut Me Down' takes us slowly back to basics further aided by a stripped back performance of 'Walking Far From Home' with Beam on acoustic guitar and a little help from a clap happy crowd.  Beam stops mid sentence and smiles, "I appreciate the enthusiasm but your fucking me up" he laughs before completing one of tonight's highlights.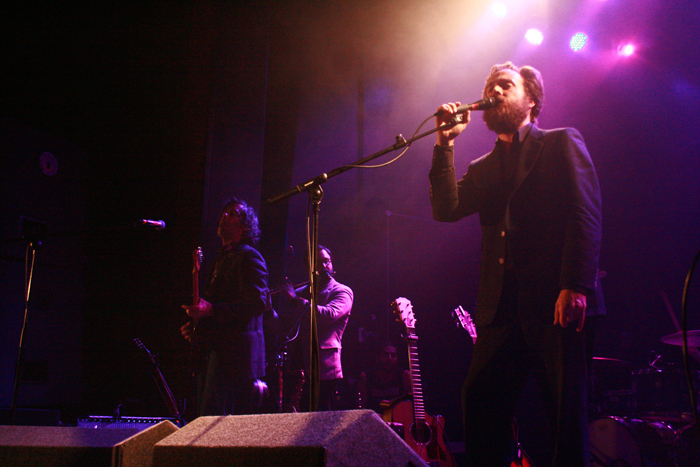 Then just like that we're back to feeling like there's just Beam, his guitar and us.  Older track 'Lion's Maine' makes an appearance while newer tracks  'Me and Lazarus' and 'Your Fake Name is Good Enough For me' close out the night.  After a brief absence, Beam's demanded back to the stage, "I'll be quick as I know some of you have trains to catch" announces the ever thoughtful frontman.  More than proving he can pull a rock show out of the bag, Beam chooses intimacy over amps, and picks up his guitar to play a one-song encore consisting of the gentle 'Naked As We Came'. The swaying couples reappear.  That thought rears its head again- what is this: a rock concert or a Valentines Day dance?  But this time it's accompanied by an answer: Does it matter?