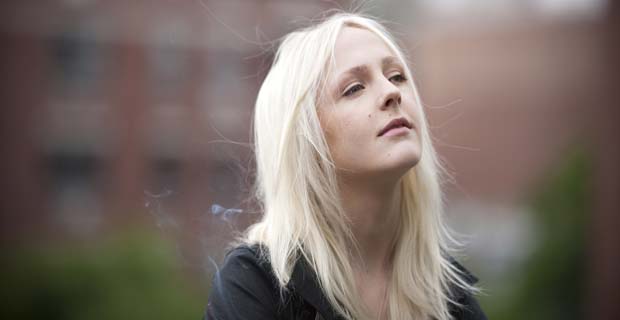 It's not every day that an artist collaborates so well with a venue.  However in the case of Laura Marling and Manchester Cathedral, it's an inspired pairing. After all, the angelic Marling certainly looks the part. With her soft-spoken demeanour and flowing blonde hair the 21-year-old alt folk star looks heaven sent in her holy surroundings.
Marling arrives in the heart of the North tonight as part of her When The Bell Tolls tour, a trek that's seen her light up a selection of the UK's most grandiose monuments.   However, as she explains to a tightly packed Mancunion congregation, this evening's show is different. "This is our first standing gig," smiles the glowing songstress, "it's very exciting!"  Tonight's audience share Marling's sentiment completely, welcoming each melodic, guitar-laced offering with open arms.
Marling's stage presence is startling. It's hard to believe that the delicate words spoken between tracks by this youthful star come from the same voicebox that effortlessly fills this vast Cathedral whenever she begins a new song.  Her backing band provides gentle support throughout the first part of tonight's set, sticking around long enough to accompany Marling through a tour of her newer material. I Was Just a Card, The Muse, Don't Ask Me and The Beast all perfectly showcase her rapidly evolving song-writing abilities and maturing style.
Next up, we're treated to a solo round with Marling stunning tonight's crowd with her guitar skills and vocal prowess alone.  Touching renditions of Goodbye England (Covered in Snow) and Night After Night, plus the debut of a new song, the tentatively titled Pray For Me, inject some warm and welcome intimacy into this grand and spacious Cathedral.  Marling is then rejoined by her band and after a quick introduction (and Manchester-based fact sharing session), they close out tonight with a handful of favourites. Alas I Cannot Swim's My Manic and I and the autumnal Rambling Man from last year's I Speak Because I Can are nestled between newer numbers My Friends and Sophia from 2011's A Creature I Don't Know. The folksy jaunt All My Rage ends this evening's set, leaving Manchester to exit this holy building in jovial spirits.  Truly an enlightening experience.
Words by Simon Bland.