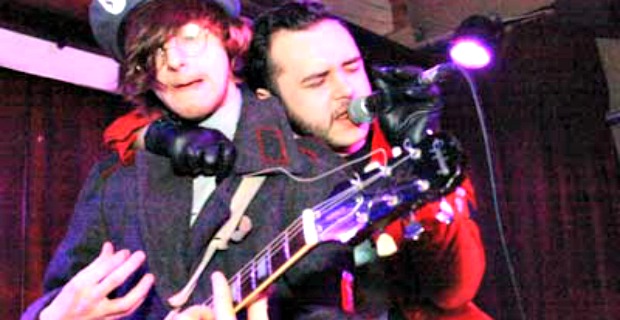 There may be over 100 miles and the Pennines between Manchester and Middlesbrough, but musical influences and creativity can occasionally conjure flashes of similarity in spirit, style and football colours. Both The Madding Crowd (Mancs.) and Serinette (Boro) are highly visually engaging in their on-stage performance and produce enjoyably fiery sounds.
Louise Radford of Serinette lines up along four of the 5 piece, an arrangement which just about fits on the stage, all stood in front of the drummer, Paul Bernard Morton. The limited space doesn't stop her from animating songs with dramatic flourishes of her arm, accompanied by the occasional intense stare before she lets a knowing smile escape.
The four players in the Madding Crowd get around the lack of space by having guitarist Dominic Corry and front man Ben Corry spend most of the time amongst the crowd. The spectacle is added to by Ben being attired in a bright red jacket and black, leather-ish gloves, whilst Dominic is wearing a body length trench coat and cap. It may be cold outside, but they're warming the atmosphere up nicely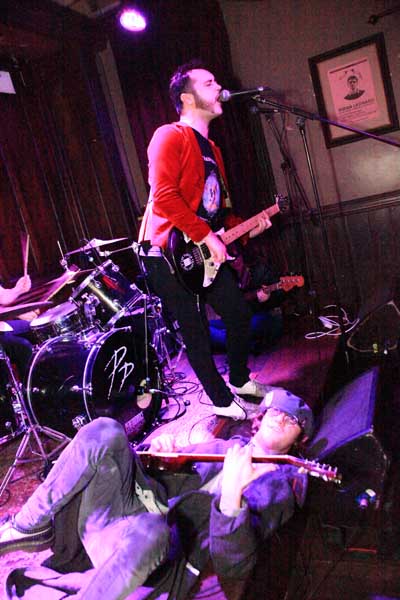 Their wandering allows bassist Claud Corry to sit down for the entire set and the dickie bow-wearing drummer, Danny Corr… I mean Danny Kristof, to smash away on the skins. All four have an armband with "Warsaw" labelled on to support the illusion they are creating.
Serinette (also a type of small barrel organ) have a warm sound, fitting in neat, rousing, choruses that have brought them to the recognition of Radio 1 DJ's, but don't let that fact put you off.
Madding Crowd have a more aggressive feel to it, which is understandable when the guitarist has his instrument microns away from your face. Memories of another Manchester band, Gabrielle's Wish flash by up as the frantic musical urgings increase intensity then abruptly stop. The audience aren't quite sure what to make of what they have just witnessed but they have plenty to think about, which is always a good thing.
Words and photography by Ged Camera.
Keep up to date on all the latest Northern entertainment news by following us on Twitter, Facebook and Google+.