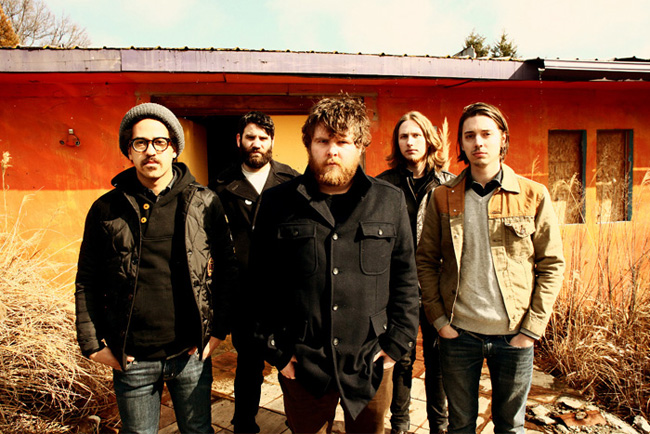 It's an exciting time for Manchester Orchestra.  With two critically praised albums under their belt and a third in the can awaiting release, the band arrive in Manchester this April weekend looking like kids giddy with a secret.
The excitement doesn't stop at the stage either; it's been circulating this increasingly cramped room at Manchester's superb Ruby Lounge venue since doors opened an hour ago.  And as frontman Andy Hull picks up his guitar with his bandmates perched on the small stage alongside him and strums the opening riff to Pride all the pent up band-crowd electricity quickly crashes together and becomes one.
The show opener, taken from 2009's Mean Everything To Nothing sets the tone for the rest of the evening.  With album number three, Simple Math inaccessible to fans until May 10th the band seem to embrace this freedom of expectation, adopting an 'anything goes' attitude for tonight's set list.  As a result, the show plays out like a greatest hits performance powered by a whatever-feels-right-in-the-spur-of-the-moment mindset making it impossible to predict what's coming next.
Staying with their sophomore record 100 Dollars chases their slowly stewing opener, followed by the loud and anthem-like In My Teeth keeping the audience on their toes. Going back to what won fans over in the first place Now That You're Home and Wolves at Night from their 2006 record I'm Like a Virgin Losing a Child are up next while the twitchy crowd enthusiastically admire drummer Tim Very's beard.
April Fool sneaks in to a warm welcome, teasing fans with a promise of more new material, but there will be time for that on future tours.  This new track blends seamlessly into the high-octane playlist the band are creating as they go, nestled in front of a semi-acoustic rendition of I Can Barely Breathe, a blistering Shake it Out and fan-fave I've Got Friends.
Phew, the band stops for a breather, taking in their Mancunian surroundings. "Can we give it up for Karl Pilkington?" asks Hull; the crowd respond with a resounding cheer, "head like a fucking orange…" he continues. For the band, tonight's show is a homecoming-away-from home: "we named this fucking band after this fucking city!" exclaims Hull proudly and it's clear they're enjoying their warm welcome back. Colly Strings and Sleeper 1972 slow things down showcasing some of Manchester Orchestra's trademark live show intimacy, while a sombre cover of Willie Nelson's The Party's Over closes up their main set.
The band return to the stage for two encores – an extended Where Have You Been? a jewel in their back catalogue that really shines during live performances and a light-hearted jab at 50 Cent sending fans home with a smile on their face.
The crowd leave the venue dazed and still hyped, all too aware that they're unlikely to see the band in such close quarters again anytime soon.  Tonight's show will stay with them like Hull's emotional howls. Yep; it really is an exciting time for Manchester Orchestra.
Check out the recently released Simple Math video plus an interview with bassist Jonathan Corley right here.