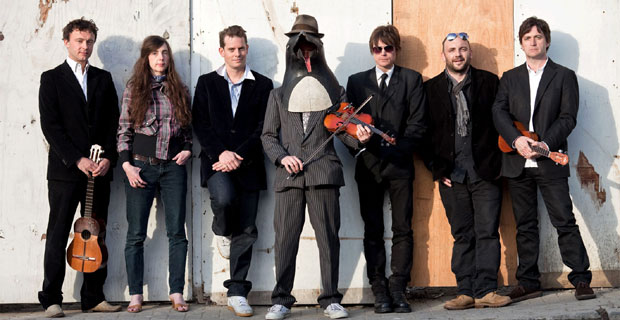 Manchester's Bridgewater Hall is a fantastic venue, designed to be the best possible space for music. The BBC Philharmonic, the Hallé, and Manchester Camerata, all hold residencies here. Tonight's act however will be very different to the usual inhabitants. The first things to be noted when entering this magnificent space are two giant paper-Mache penguin heads placed on speakers either side of the stage. When watching an orchestra who named themselves after a Penguin Café visited in a dream, you have to expect something surreal.
Classically trained guitarist Simon Jeffes is the man who had the vision, albeit while hallucinating when suffering from food poisoning, of a Café run by a penguin, in which randomness and spontaneity were things to be cherished rather than rejected. As a result he formed an experimental orchestra which has in-turn become appreciated for its unpredictability. The group successfully went on to support the likes of Kraftwerk and were also signed to Brian Eno's Obscure Records. The Penguin Café concept was then taken over by Jeffes' son, Arthur, with a new group which performs new material as well as staying true to his father's conception.
As a result older compositions are modified and adapted. Swing The Cat takes on a frantic live pace, with an emphasised percussive element making it sound closer to an Irish folk jig. "That one's getting faster every night," admits Arthur after the rendition. No more evident is this modernisation than when the notable Telephone And Rubber Band is performed. Originally Simon Jeffes was using the telephone and the ringing tone was intersected with an engaged tone. He then looped this using a tape player. The loop now comes via an iPhone, providing the backdrop to one of their most recognisable pieces.
The spirit of experimentation is still in abundance with newer material. For instance while making one song for the new album the group wanted to create a dramatic sound and tried to smash a pane of glass inside the studio. Unfortunately they tried this using a piece of toughened glass, giving themselves sore knuckles in the process. Nonetheless this pane survives and has even made it on tour, providing a deeply resonating bass sound.
The best moment of this concert comes with the recital of Music For A Found Harmonium, a song made for a harmonium Jeffes found in a backstreet in Kyoto while enjoying their first tour of Japan. Pale Peach Jukebox, from the new album, also excites the audience. This one was written with a picture of a desert and a fountain in mind, imagining a group of musicians spontaneously beginning a number round the water. The encore is equally stunning, a piano piece Arthur has written and played at his father's memorial, proof if any was needed that he is a musician in his own right and perfectly skilled to continue the creative dream.