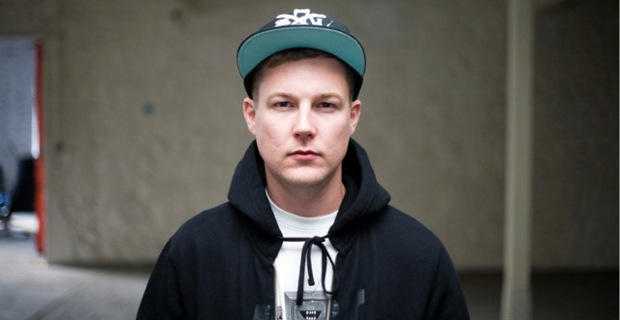 Maybe it's because he's spent a lot of time in various prisons that Ad-Apt is not keeping the announcement of his EP to the confines of the venue. There's a smell of paint in the street outside Band On The Wall because of a huge artwork being created live by Edge.
But his time spent in prisons has nothing to do with being a hardened criminal. He chose to go in voluntarily, to work with young offenders. He helped develop the creative project called Locdown, which works with young offenders in the UK. Ad-Apt (real name Adam Brown) said, "I love working in prisons and with young people who have amazing potential to gain new skills and achieve. It's really rewarding to be able to help young people and use music as a way to let them express themselves creatively."
While Ad-Apt is a new name to many people reading this, performing in-front of crowds is nothing new for him. Starting out at 16, he was MC-ing at drum & bass nights regularly.
Now 28, he has spent the last 3 years creating the EP Broken Bones. You can tell on stage just how proud and excited he was to be performing it in it's entirety. Backed by a full band, his nerves drop away almost immediately and his energy on stage quickly catches on to those at the front. While you feel the venue could have been a little fuller this only seems to let those there the space to dance even wilder, with skanking and hand waving made all the more frantic.
Broken Bones – preview by Ad Apt
With support from poet Joe Holland, beatboxer Hobbit (more of whom later) and the Sheffield based Homecut, the crowd were successfully warmed and ready for the headliner.
You would be forgiven for thinking that hearing 5 generic "MC" songs might get a little repetitive, but this is where Ad-Apt shows his versatility. Whether you like hip-hop, electro, dupstep or drum & bass, Ad-Apt's sound has something for everyone and he really showcased it here.
If you arrived expecting him to quickly blast through each track on the EP, you were mistaken. Midway he integrated some of his  previous material such as Mr Ego, as well as a selection of 90's Garage covers for which he brought back the magnificent beatboxer Hobbit to perform with.
Ad-Apt has got big plans for him and Hobbit as a live spectacle. "I've got 'The Boombox Tour' coming up in December through to February with Hobbit. We're gonna be doing shows in NZ, Australia and Hong Kong for the first time as an act and I'm really looking forward to it."
After this interlude he brought his band back on to perform "Winner Takes It All" and finished with the title track and strongest song on the EP, Broken Bones.
We may not be able to see him while performing on the other side of the world, but the good news is that he's starting work on his debut album and hopes to release towards the end of 2012. The EP launch was a great induction, turning an expectant audience into ardent fans.
Words: Daniel Savage
Mr. Ego (Demo) Prod. by A.Skillz by Ad Apt