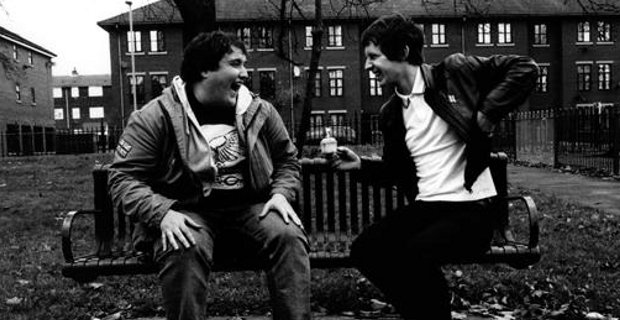 Manchester's Kraak Gallery is a strange little place. On paper, it's the perfect fit for a rock club; hidden away in a dingy back alley in the heart of the Northern Quarter, wherein so much of the city's alternative culture is firmly rooted. Instead, the gallery's website seems to suggest it's mainly used as a photography space, with a sparse gig history including such luminaries as Mischa B's cousin from the X Factor (I know.)
 It's surprising, then, to see such a stellar line-up gracing the gallery's stage this evening, courtesy of Manchester's established promoters, Now Wave, who venture out from their Deaf Institute base for one of their final shows of the year. It's one that's seen them curate line-ups at both the Apollo and the Ritz, DJ regularly at the Warehouse Project and bring some of the world's most exciting new bands to Manchester.
 Headline duties are handled tonight by Iceage, playing in support of debut record New Brigade. The incendiary Danish four-piece have already perforated many a Mancunian eardrum after a scintillating twenty-two minute set at Islington Mill back in September, which was almost as brutal as it was brief. It's left to Manchester's own Brown Brogues, then, to fill the main support slot.
 httpv://www.youtube.com/watch?v=AFs98jJqD_4
If Brogues can't quite match tonight's headliners in the aggression stakes, they can certainly give them a run for the money in terms of sheer noise; this is a band hell bent on eschewing the popular leaning towards more synths and less guitar in recent years, instead going for the simple guitar and drums setup that underpinned the raw, unpolished sound of debut EP releases Wildman and Don't Touch My Hair.
 It's the kind of sound that tends to develop an exhilarating new dimension in the live arena, and tonight's no exception; Brown Brogues have blended classically garage rock sensibilities, all scuzzy guitars and distorted vocals, with the danceable hooks that recall the likes of Death from Above 1979. A couple of the mellower numbers on the set-list take their cues from the style of garage-blues crossover that the White Stripes made famous, but they're few and far-between, with the majority of the band's repertoire making full use of frontman Mark Vernon's venomous vocal delivery. Brown Brogues already have a formidable live show nailed down; with any luck, 2012 will see them fulfil some of this promise on record.
Words: Joe Goggins