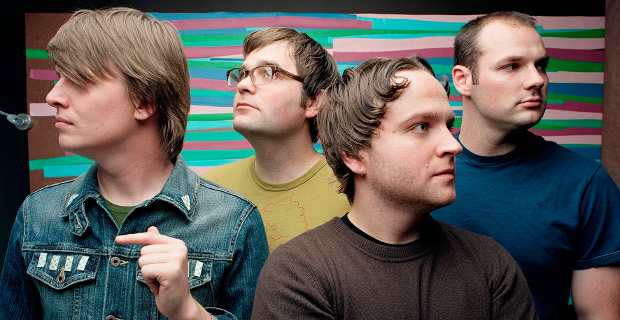 When I was 21 I met a guy who I thought was my perfect match and embarked on a whirlwind romance of late nights spent talking and discovering things about each other – our  fears, hopes and dreams. We had an instant connection when it came to music and the starry-eyed youth that I was decided to make a compilation CD (back when people did that) of songs that became 'ours'. The relationship sadly didn't last but I resolved to see every band featured on that CD so I could in a way come full circle. One of these acts has escaped me, life always got in the way, and that was Death Cab For Cutie.
Five years after my first discovery and that mix CD the day finally arrived for me to see the band I had yearned to experience for so long. Although I regret not seeing them earlier in their career, I was nevertheless anticipating an outstanding performance. It was my first time at the Leeds Academy and I was pleased to find a sloping floor that allowed me to see throughout the entire gig, which at 5"4' is a real achievement.
An eclectic set covered The Photo Album, We Have The Facts And We're Voting Yes, Narrow Stairs, new offering Codes and Keys plus fan favourites from Plans and Transatlanticism. Such a back-catalogue shows how far the group have come and how revered they are now – so much so that an eight minute intro is just accepted as 'what they do'. Opener I Will Possess Your Heart proved this from the outset. Crooked Teeth then eased the crowd into the classics. New tracks are interspersed with earlier material in an attempt to convince fans that the new album is more than just a stepping stone from Narrow Stairs to the future.
httpv://www.youtube.com/watch?v=pq-yP7mb8UE&ob=av2e
 Admittedly, some new tracks fell a little flat considering fans have had so many years with the old favourites – A Lack of Colour and Brothers on a Hotel Bed standing out as highlights. Emotionally charged songs hit the strongest chord with the Leeds crowd.
Gibbard released himself from the confines of his many roles (vocalist/pianist/guitarist) to assist on the second drum kit for an extended version of We Looked Like Giants before launching into a climax with Sound of Settling.
The room was buzzing as the audience knew what was yet to come, Gibbard coming out alone for the encore with just his acoustic guitar to perform I Will Follow You Into The Dark. This could not have been any better, provoking a mass sing-along with the entire room, creating a sense of togetherness and an electric atmosphere. The rest of the band returned for new track Home Is A Fire, A Movie Script Ending and finally Transatlanticism – a perfect end to a long awaited night.
Words: Midori Lumsden