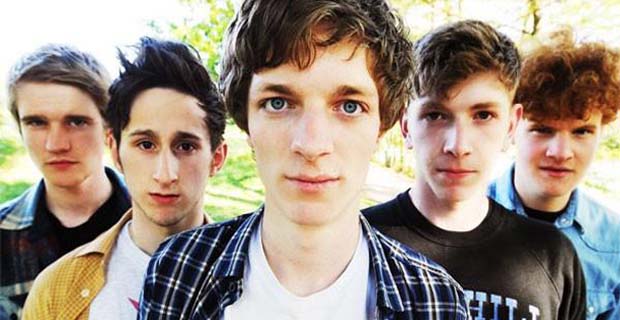 You don't quite know what to expect when you go to a gig and don't know many of the headlining band's songs. That said, your nerves settle when the band in question have been compared to the likes of Bombay Bicycle Club, Mumford & Sons and Vampire Weekend. Not to oversell it or anything…
Nottingham outfit Dog Is Dead launched straight into Head in Your Hands, making an immediate impact and showcasing the frontman's amazing vocal abilities; creating more of a tune than the guitar riff. This set the tone for the rest of tonight's Sound Control show, with the band showing off their impressive array of EP's, singles and even a new song.
The set was incredible, peaking in the second half with debut single Glockenspiel Song, new one Hands Down and their brand new track Two Devils. Although the latter lacked energy, the three tracks really showed off the band's potential to keep producing great tunes; with Hands Down sure to be a fan fave.
"We are a mess, we are failures and we love it!" chant the band during Glockenspiel Song. With the crowd's enthusiastic response, it's really hard to believe that statement. There's definitely a faint sense of modesty under the overwhelming volume of on-stage assurance.
Usually with small crowds, you expect a room of music fans politely nodding in rhythm to the tune, standing slightly awkwardly with their hands in their pockets. This was far from the case. This was a crowd of devoted Dog Is Dead fans jumping around, hands aloft and singing along.
This is a band who really seem to enjoy headlining their own tour, having experienced supporting acts such as Cajun Dance Party, Bombay Bicycle Club and OK Go. Definitely picking stuff up along the way, because Dog Is Dead really know what they're doing on stage. The band were tight and energetic, while working the audience well. You'd think they'd have been doing this for decades despite not even been together for half of one, having formed in 2008.
The 45 minute long, eight-track set certainly left the crowd hungry for more. Especially as they failed to return for an encore, though it's important to remember that: a) they only have a small pool of songs to boast; and b) they only planned to give a taster of what to expect. But, fear not, you'll be hearing a lot more of this promising band in 2012. Watch this space.
Words by David Wright.