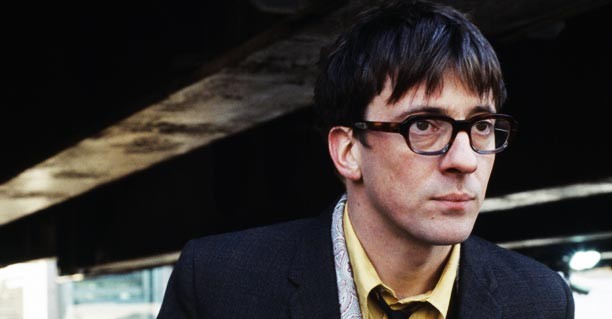 Reconciled Blur member, bonafide guitar hero and music's most notorious aged teenager Graham Coxon has managed to distract us all from the Brits by releasing his new solo album A&E. With his eighth album out the bag and straight into the unusually praiseworthy hands of the critics, it's time for Coxon to demonstrate it's live efficiency to fans in the customary promo tour.
We caught him at Sound Control in Manchester.
With Blur's current re-emergence into the spotlight and Coxon's own accumulative indie cult status it is surprising to see him in a venue that he could have filled many times over.  Uncomfortably full, if you found yourself anywhere near the back, the lack of a raked floor meant you were craning your neck to get a decent view of the spectacled one.
He started the gig quite quietly, not interacting much with the crow he ignored the unfavourable sorts shouting "DO PARKLIFE" and "BOYS AND GIRLS, PLAY BOYS AND GIRLS".
He was in danger of peaking too early to a tepid crowd with the introduction of "Standing On My Own Again" and "I Can't Look At Your Skin" within the first ten minutes but towards the middle of the set he coyly announced "We're gonna play some stuff off the new album now, I think", which received a fairly rapturous cheer from the crowd. Genuinely surprised he asked "Oh, do you like it then? That's nice".
It seems that his vow of abstinence has taken a back seat and after a beer or two and a positive response to "Meet and Drink and Pollinate" Coxon really began to relax.
A stoic figure of 'Peter Pan Syndrome', at the age of 43, there's a risk of losing the boyish charm and sweet youthful yearning of his trademark sound. But it's evident that he, against the odds, is still the king of understated cool. His indomitable adolescent micro-rebellious attitude, mysterious juxtaposed timidity and cool confidence made for an enigmatic performance.
This made up for the fact that the sound levels were less than perfect throughout, the bass needlessly emphasised and his voice turned down, which detracted from Coxon's famously impressive guitar skills. It must have been difficult to play to an audience so compacted that dancing along was out the question.
Despite that, the performance was both energetic and tender. He is still a masterful musician and it seemed that he was keen to get back to the heavy punk riffs with no sign of "Bittersweet Bundle of Misery" or much of the popgasmic album "Happiness in Magazines".
The announcement of the last song came before a spirited rendition of "Freakin' Out" and the band left only to return shortly after for an encore.
New track and "A&E" favourite "What'll It Take (To Make You People Dance)" got exactly what it was asking from us and the gig finished with a ten minute Pearl Jam-esque performance of "Ooh, Yeh Yeh".
http://www.youtube.com/watch?v=DywGCQCKt9s
The years of experience have certainly paid off and his musical ability is still beautiful to behold. He's matured but not enough to weaken the delivery of the older, rebellious stuff.
With a sterling new record and the ability to still 'rock out' convincingly, Graham Coxon may have reunited with Blur but it's certainly not because he couldn't make a success of it alone.
words by Sophie Lea
—————————-
Follow us on twitter and facebook for live updates.
We also put on our own live gigs. Check our tickets page.