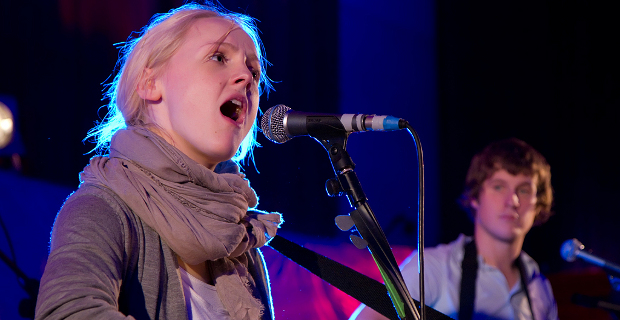 What's instantly eye catching about Laura Marling's current tour is that she's called it The Wisdom of Spring. Pick up any review of Marling's work, whether on record or live, and the idea of her being wise beyond her years is bound to crop up; the word 'maturity' is usually thrown around as if going out of fashion, understandably when you consider the major thematic leap that sophomore record I Speak Because I Can represented.
It's the quick fire follow up to Speak that's the driving force behind this current touring vehicle; A Creature I Don't Know will shortly be repressed on vinyl, bringing it back into the eye of the consumer after it met with considerable acclaim from critics on release last September. Accordingly, the majority of the record is aired tonight, with simmering opener I Was Just a Card segueing surprisingly neatly into the shuffling guitars and Americana-tinged vocals of The Muse.
A slew of classics do make the cut – Ghosts prompts a mass sing-along, as does Alas I Cannot Swim, at least for the first verse – "no one ever remembers past here," said an earnest Marling of one of her best known tracks. That she comes across as so genuinely awkward onstage might explain what an endearing performer she is; interrupting the lyrically-serious My Friends and What He Wrote with giggly comments, whilst persistent, perhaps unsurprising, declarations of love from audience members are fielded humbly.
Her insistence on introducing the backing band through a series of progressively more lame 'facts' – concluding with Marling's own, a highly dubious claim that the Queen drinks the government's weekly recommended level of alcohol on a daily basis – is a further example of the refreshing warmth towards the audience she exudes.
Disappointing, though, is the lack of earlier material; whilst Marling's debut LP is certainly no match for her more recent efforts, the likes of My Manic and I and the haunting Night Terror still work brilliantly in a live setting, and deserve an airing. When you realise how eager she is to keep moving forwards, though, it's hard to hold it against her – new track Pray for Me makes the cut tonight, alongside a charming cover of Ryan Adams' My Winding Wheel. It's this kind of approach that has led to such prolific output – three records in four years so far – and by the time she signs off with her now-customary speech about why she 'doesn't do encores', the crowd can rest easy in the knowledge they're unlikely to have long to wait for their next folk fix.
Words: Joe Goggins
Follow us on Facebook & Twitter