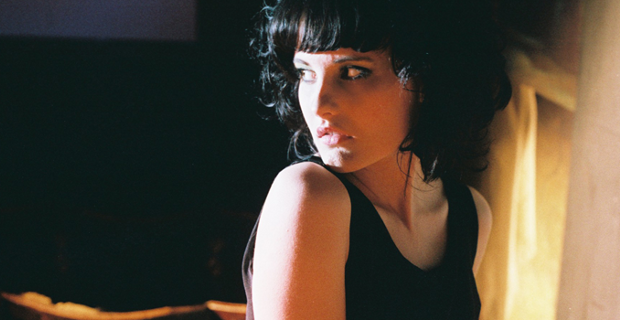 Salford-born soulful talent Ren Harvieu has tempted industry faces away from London and into the winding backstreets of Manchester's Northern Quarter. Tucked away, this bohemian hub is replete with all things alternative, from independent record stores to adult ones. The cognoscenti navigate around the latter to find Matt & Phreds Jazz Café for an intimate showcasing of her sumptuous voice.
It's rare to find Stuart Maconie's head obscuring your view but such is the media interest in the BBC Sound Of 2012 nominee, who quickly garnered acclaim with a blend of theatrically swinging strings and Dusty In Memphis style sensuousness. She's waited longer than most for the album launch milestone. A broken back last May threatened to derail the 21-year-old's nascent career completely. After being faced with long-term paralysis she's made a determined recovery, now only needing a crutch to walk.
There's nothing s static in Ren's onstage persona as opener Tonight begins. Gripping a mic-stand for support she sways hypnotically, engaging the rapt crowd with a sultry stare as big-band brass takes hold. Her understated delivery effortlessly commands attention amidst a dramatic backdrop. Without the range of Bassey, Harvieu's anachronistic tones sit closer to Peggy Lee or Rumer, yet she controls the minimal approach expertly over a versatile array of genres.
Through The Night – the album's title track – comes close to Jazz with bossa-nova guitar picking. Do Right By Me is country tinged with a swing infused chorus. Forever In Blue provides a stripped-back slice of melancholic intimacy, revealing the sensitivity beneath the hard-edged Salford exterior which carries each rendition off so confidently.
A cover of Rihanna's We Found Love is the only incongruous moment in an otherwise incredible set – undoubtedly revamping the song with some class, it nonetheless fails to match the standard of her own material.  A slowed-down cover of Roy Orbison's Crying steals the show – a chilling atmosphere evoked via elongated strings and strewn-out strumming. The night ends with Open Up Your Arms, an uplifting arms-in-the-air anthem sure to be get lighters and phones swaying. "Open up your arms, let me in," she beseeches emphatically – it won't be long until she's embraced by the charts.
Words: Simon Butcher
Follow NN on Twitter and Facebook