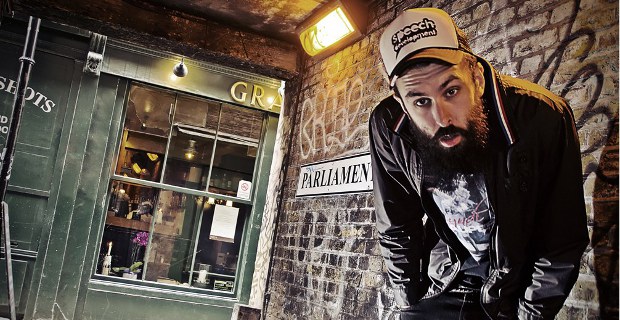 When Scroobius Pip announced his momentary split with long-time accomplice Dan Le Sac, a return to his roots in punk was an interesting prospect. The ensuing album, Distraction Pieces, merges Pip's earlier thought-provoking outbursts, poetic traits and cynical witticisms with rock-infused backing.
 It's not often a night of sheer chaos involves storytelling, philosophy and a bottle of rosé wine. But this is a Scroobius Pip gig sans Dan Le Sac and with the support B. Dolan wearing a large noosed-rope necklace, so conventions are thrown out the window from the off.
One B. Dolan, to say he was relatively unknown to the majority of the crowd, opened the night with great style and assurance. The crowd take an instant fondness to the Rhode Island rapper, peaking with his last, comical rap about his loathing of Justin Timberlake, leaving most of the Academy concurring and all in hysterics.
Enter, Pip; bottle of rosé wine in hand, sporting his trademark black and white trucker hat and – modestly – a Scroobius Pip t-shirt bearing his face.
"This is gonna be a rambling one," he says after a chug of rosé.
As if we'd have it any other way.
After thanking the crowd for the first sell-out gig of the tour, he kicks off the main set which reflected the entirety of the latest LP, Distraction Pieces. Dolan was invited on and off the stage and even threw in one of his own songs – One Breath Left – into the mix. The chemistry between Dolan and Pip was captivating, with both starting out in the spoken word scene he's definitely Pip's counterpart from across the pond.
Another cameo appearance was Natasha Fox for her part in Feel It; Pip's favourite Kate Bush song, which brings a more intense atmosphere. This track, along with the story 1000 Words – for which Granddad Pip sits down – breaks up the night and gives everyone a chance to catch their breath.
A guitarist and a drummer make up the rest of the band, bolstering the more punk-influenced tracks such as Let 'Em Come and Try Dying where the choruses are roared. Then, really complementing the hip-hop tracks, Soldier Boy (Kill 'Em) and Domestic Silence are songs you can easily imagine having a Dan Le Sac beat behind.
"Are there any press here tonight?" He asks the crowd.
A few hands rise, though each know of the abuse they're about to endure.
"Well," he laughs, "This song is about how you're all c*nts."
He's always going to be a contentious character, but can you imagine a Scroobius Pip without principles and rage? It shows more than ever in Distraction Pieces, which seems more solemn and angry than previous albums. Tracks like the aforementioned song about the press (Death of the Journalist) and Broken Promise really stimulate the mind, 'How can a lie be a lie if you mean it at the time?' – Because… can it?
Get Off, a Prince original, finished off the night expertly, joined again by B. Dolan and Natasha Fox – and rightly so because this was a team effort throughout the night creating a fine line between the support and headline title.
Words:David Wright
Follow Northern Noise on Twitter