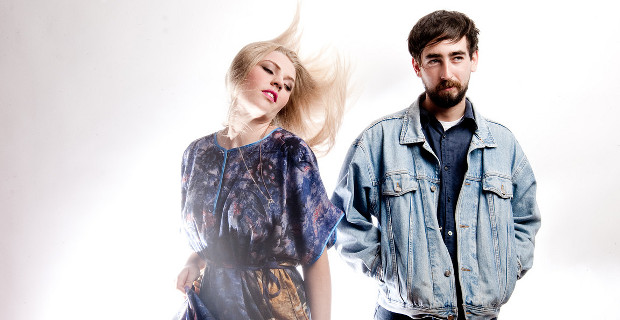 "I'm so nervous. Usually I couldn't care less," jokes Rebecca Taylor impishly.  She's the normally more garrulous half of Sheffield indie-folk duo, Slow Club. Tonight however, the peacefulness of St Philip's Church has a humbling effect. Candles flicker on the altar, while those in the pews sip mulled wine and look on with reverence.
Slow Club have a reputation for playing brilliant Christmas shows. They've released a festive song and EP in successive years and also perform an annual end of year gig at London's Union Chapel. Tonight's bobble-hat wearing audience have braved the cold in search of some seasonal magic.
Things begin tentatively, with the subtleties of Gold Mountain being amplified by the natural reverb of church walls. Rebecca's whispered tones flawlessly echo, while fellow club member Charles Watson's delicate guitar plucking accompanies.
Next, in a complete contrast the duo make a real racket with recent single If We're Still Alive. Rebecca pounds two drums, bouncing vigorously from side-to-side. An additional drummer with full kit then joins in, causing the wooden balcony above to shake.  The two share a cross-stage smile, impressed by the resonance this venue can provide. "You're too polite. Can everyone go crazy please?" asks Taylor after a muted clap – perhaps because many are wearing mittens.
httpv://www.youtube.com/watch?v=8dRTWY9t5GU
Despite the meekness from both sides, Slow Club are full of self-confidence when performing. Second record, Paradise, is only a few months old but was placed into many an end of year poll. It's a huge advancement on the combination of lyrical innocence and acoustic melodies at the core of debut, Yeah So. You only have to witness Taylor assertively chanting "you've got the brains, I've got the body", with all the sultry attitude of Lykke Li's Get Some to realise how little the twee description applies. The group have more gears now, and whether "rocking out" as Charles calls it after playing Beginners, or gripping with a tender tune, the result is equally as exciting.
"In a massive continuity error we're now going from a song about lovemaking to one about my granddad," laughs Rebecca in the transition to You, Earth Or Ash – an emotive gentle moment contemplating bereavement. Singing from an altar in the serenity of the church brings added poignancy to the most intimate moment of the evening.
It's not long until the scene resembles something you might find in a parody of a religious cult. The congregation suddenly stand for album opener, Two Cousins. Arms are held aloft and wave uncontrollably; people begin to surge to the front. Dancing and singing in the aisles ensues until the conclusion is met with rapturous applause.
Things intensify further still when the encore begins.  Slow Club get festive in their own inimitable way with the Christmas Thanks For Nothing EP exhibiting all sides of the season. Whether it's the sardonic cover of All Alone At Christmas, or their own It's Christmas And You're Boring Me, their refreshing take is much appreciated by a crowd now fully warmed by mulled-wine. The band return once more with an electrifying version of Darlene Love's Christmas (Baby Please Come Home) – an uplifting finale which is sung back word for word by an audience who've now assumed the role of a church choir. There was no stocking-filler in this show. Despite the bitter cold, people leave with a warm smile.
Words: Simon Butcher