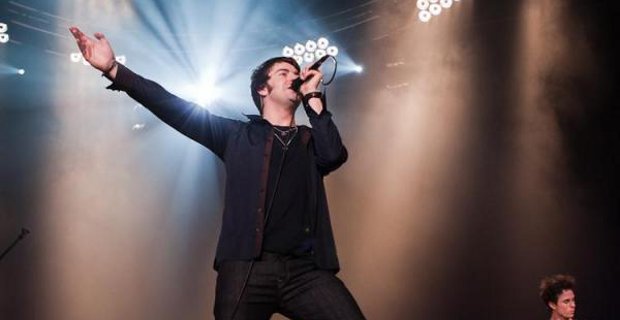 Liking The Courteeners is almost as patriotic as supporting City or United so, as you can imagine, The Apollo theatre is absolutely packed with loyal Mancunians – that's not to say people haven't travelled from up and down the country. There's a booming sense of anticipation around the venue to see what the band have been doing in 2011, with talk of the new album already recorded.
Liam Fray and the band saunter onto the stage for what will be their third, and last, Manchester gig of the year. The Opener, a love letter to Manchester and intro to album Falcon, kicks off the main set. "I don't know if you would welcome with open arms," sings frontman Fray, though it's only just audible over the uproar of the crowd – which should kind of settle their anxieties. Acrylic and Cavorting, two favourites and early singles, continue the crowd's energy.
httpv://www.youtube.com/watch?v=YC8FET-EGVM&ob=av2e
It didn't take long for new material to emerge, with Save Rosemary in Time, being their fourth song – the guitar riff comparable to The Strokes, not surprising after covering Someday earlier this year so incredibly. The Courteeners easily please this passionate crowd, ranging age, some able to remember the group's forerunners – Oasis, The Smiths, The Stone Roses.
 The normally gobby quartet seem uncharacteristically dubious when debuting these songs, "bear with us" says Fray, not without adding "next year this will be fucking massive." With an instantly memorable chorus and a dance rhythm – similar to  Kasabian's recent experiments – it's sure to live up to Fray's premonition.
The indie four-piece were in their element during the second half with hits from their debut album Please Don't, Bide Your Time and Fallowfield Hillbilly – with the latter easily the best received song from the home-crowd.
To round off the main set, the backing band leaves the stage for Fray to play a few acoustic songs. Another fresh tune is introduced here, Why Are You Still With Him?, a song about a failing relationship and one where the audience hang on his every word. It's a chance for the crowd to have a break from the upbeat tracks, recuperate for the encore, and have a sing-along.
Predictably, the encore consisted of favourites Aftershow, Not Nineteen Forever and the closer What Took You So Long? With the fans continuing to chant the last song long after the band left the stage, you just know that The Courteeners are proud and flattered to play a run of three sell-out hometown gigs at Manchester's premier theatre – something that stays with any band after they've achieved success.
Words: David Wright