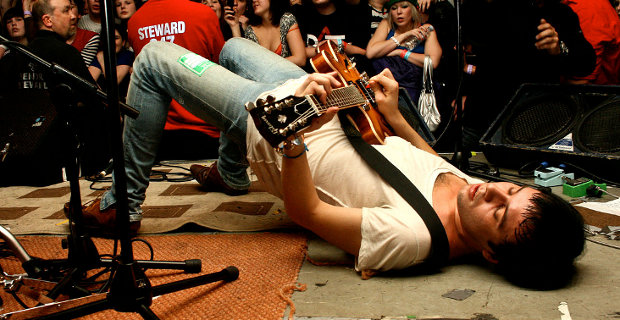 Practically speaking, a show in Leeds is as near to a homecoming as The Cribs usually get. Hailing from another part of West Yorkshire – namely, Wakefield – the band certainly have plenty of previous with these parts; their as-yet only live video release, Live at the Brudenell, was filmed at the famous Leeds social club in 2007, and the town's been referred to – albeit cynically – in the lyrics for their single Martell. Tonight caps off a short UK tour designed specifically to air new material, and the strong possibility of a triumphant return to the north of England was on the cards from the off.
It's been well over two years now since the last Cribs record, Ignore the Ignorant, was released, and there's plenty of upheaval since; last year saw the amicable departure of Johnny Marr, over creative differences already laid bare through the decidedly off-kilter single release Housewife. As much as the legendary Smiths axeman's flourishes were the making of Ignorant, there was something undeniably exciting about the prospect of the three Jarman brothers going it alone again.
Certainly, any hopes that the reshuffle might lead to a return to the more direct, abrasive sound of the band's early output are immediately proved well-placed with blistering opener Chi-Town. This is a considerably smaller venue than you might normally expect to see The Cribs play – a little over a thousand in capacity – and the choices made for the setlist reflect the rawer atmosphere; just three tracks from the last release make the cut tonight, with a host of early classics, including the self-titled debut's Direction and The Lights Went Out, enough to whip the already lively Saturday night crowd into a genuine frenzy.
Inevitably, a slew of as yet unreleased tracks, all from the forthcoming, and wonderfully titled LP, In the Belly of the Brazen Bull, are also brought out for a first listen; whilst a hardcore minority are clearly familiar with Better Than Me, released days earlier as a pre-order bonus, the majority represent unchartered territory – if only for their current novelty. It's clear that Brazen Bull is set to lurch back towards the sparser sound of the first two Cribs records; there's a directness, almost an aggression to the guitars that was absent during the Marr days – it's out with the pop and in with the punk, for sure.
A smattering of genuine live gems, including the Lee Ranaldo-narrated Be Safe and probably the band's most expansive track yet, the searing City of Bugs, bring the set to a premature close; The Cribs are hugely unlikely to win any prizes for originality, but as long as they can walk onto a stage and command the kind of fervent reception they were met with tonight, it's hugely unlikely that they'll care.
Words: Joe Goggins
Follow NN on Twitter here.
Buy Tickets for Northern Noise Live – Torches