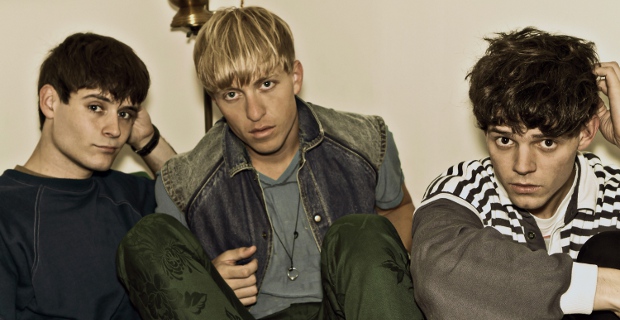 You could be forgiven for thinking something has gone awry with the smoke-machine inside the HMV Ritz tonight. As a spotlight hits Frontman Jonathan Pierce, his slender silhouette is shrouded by a dense white mist. The obscurantism is no pyrotechnic mishap – it's steam rising from an ebullient audience.
A rapturous overflow of approval is much appreciated by a band who were on the brink of collapse just 12 months ago. In September 2010 guitarist Adam Kessler suddenly left The Drums – one of the year's most successful new acts. The Brooklyn-based outfit were deified by NME and made it into the BBC's Sound of 2010 poll too. Their self-titled debut was a post-punk goes surfing success story, lending unashamedly from Orange Juice and The Smiths to The Beach Boys, but with second album – Portamento – receiving a muted response, the remaining three members are contending with a backlash.
httpv://www.youtube.com/watch?v=IqYgNiZdfh4
A fractured illumination of the album-title spells the situation out clearly. To the stage left it flashes 'Porta' and to the right 'Mento', lighting up whenever material from the new record is aired. The word denotes a smooth progression from one tone to another, and Pierce has previously said it represents the transition between releases – but very little has been 'smooth' about that. The acrimonious split with Kessler has had lasting effects; hence the band's adapted line-up makes a cabinet reshuffle seem low-key.  Drummer, Connor Hanwick, has now switched to guitar. Previous guitarist, Jacob Graham, is now on synths, and also added are two supplementary members on percussion and bass.
Despite all adversity, Manchester is fully behind The Drums in the final sold-out date of their UK tour. Perhaps it's because their American surf-pop doesn't reside many miles away from the city's roots.  Peter Hook influenced bass-driven rhythms resonate, Pierce swoons from the hip in a tribute Davyhulme born icon Morrissey, guitars jangle in the same way made prominent by Johnny Marr. Despite pastiche elements there's a fresh feel to proceedings. Backing-tracks previously used to flesh-out live shows are eschewed and layers are expansive.
There are a few miss-fire's which threaten to make the flashing Portamento light into an omen which could easily stand for 'toilet-break'. I Need A Doctor flat-lines completely, leaving the crowd in a state of comatose.  How It Ended equally transfers languor from stage to fans, with even Pierce seemingly bored. Portamento's subtleties are at times magnified but more often than not are lost in the live setting.
Nonetheless it's the recent single, Money, which garners screams of adulation with its intricate core guitar-riff causing Pierce to dance uncontrollably while yelping "I don't have any money", as though exasperated. Also a favourite is the bass-heavy, Days, reminiscent of Joy Division's work
It's clear the group enjoy playing new material after touring their debut relentlessly. Portamento forms the bulk. Pierce – sporting the same bowl haircut as styled on the album cover – sways vigorously as Book Of Revelation begins. Having been brought up in a religious household, he now sings "there's no heaven and no hell", as red lighting gives the illusion that he is descending into a state of everlasting perdition.
Despite the lukewarm reception to the recent album it seems The Drums are not consigned eternal damnation just yet. Live, Portamento sits nicely with the back-catalogue, the same lyrical solipsism an d overall sense of alienation persists. However, here their brand of feigned disaffection unites Manchester. 
Words: Simon Butcher
httpv://www.youtube.com/watch?v=MUubQj7g56E