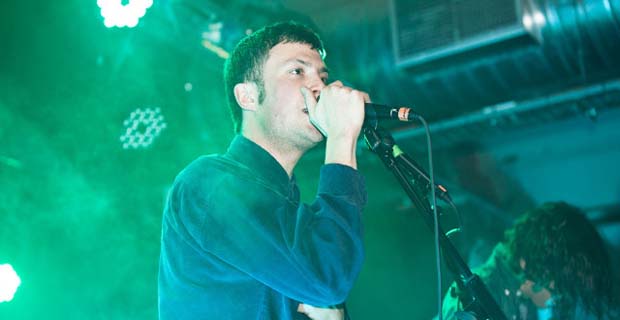 As a fan of The Maccabees since their early days, this writer was extremely excited at the prospect of seeing them for the 16th or so time, a far step from a support act on the NME Rock and Riot Tour back in 2006. Having been shut up in the studio for the past few months recording their third album, Given To The Wild (due to be released 9th January 2012), this collection of dates at small venues is their chance to test out new material.
I took along a novice who had not seen the band before and was sure she would be impressed. The crowd was packed into Sound Control, eagerly awaiting old favourites and a taste of the future record. This would be a night the south London five-piece would no doubt remember, not least for the high number of vampires, ghosts, and zombies watching from below the stage.
httpv://www.youtube.com/watch?v=6A1xu0BSs2s
 Unusually, they started off with two new tracks, Child and Feel to Follow. The former song showcased Orlando Weeks' unique vocals, while being complemented by the White brothers' accompanying guitar – sure to become a fan favourite. Then they returned to what they do best. Lego and First Love, from debut Colour it in got things moving, then Wall of Arms' One Hand Holding & Can You Give It worked the crowd into a frenzy.
The band didn't disappoint – Weeks maintaining his humble charm when conversing between songs, the visible chemistry of Hugo White and Rupert Jarvis on bass, Felix White's infinite energy and enthusiasm and Sam Doyle holding the whole thing together on drums.  Next up was another new track, Pelican – promising a much rockier sound, it came close to The Knack's My Sharona with Afro-beat percussive elements.
 Precious Time followed, prompting crowd-surfing, this led into the tempo changing No Kind Words – an outstanding moment. Another new track Forever I've Known calmed the rowdy venue showing that the band can captivate with a more mellow resonating sound as well as with rowdier numbers. The denouement of tonight's set came in the form of Williams Powers and Love You Better which incited more rabble rousing.
The band returned with an encore beginning with X-Ray, which provoked a sing-along to the tune of its guitar riff from the first twang of the bass string, before culminating in an exhilarating frenetic dance pace. Unconventionally the closing song was another new track, Grew Up At Midnight which sadly failed to hold the crowd's attention and several people took the opportunity to head out for their Halloween celebrations. There were some old classics that were noticeably missed, including All In Your Rows and Young Lions, but for a band with an expanding choice of set-list, they can be forgiven for wanting to play a good mix of old and new. Tonight The Maccabees showed that anyone at their gigs, be it their first or 16th, cannot help but leave with a smile.
Words: Midori Lumsden Photography: Magnus Aske Blikeng, http://www.mabvision.com/#2237843/The-Maccabees
httpv://www.youtube.com/watch?v=IhmKNBBp3OU
Full set-list:
Child 
Feel to Follow 
Lego 
First Love 
One Hand Holding 
Can You Give It 
Pelican 
Precious Time 
No Kind Words 
Forever I've Known 
William Powers 
Love You Better 
Encore:
X-Ray 
Wall of Arms 
Grew Up At Midnight