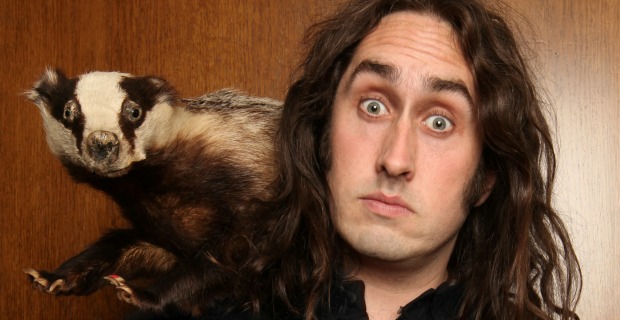 What connects gangsta dwarf drive-bys, perilous curbs and haunted condoms? To be honest, we'd be worried if you answered with anything other than laser-fast comic Ross Noble. The Geordie funny man is in town to perform three stand-up shows at The Lowry in Salford and as we found out at Thursday's show, his current tour has no shortage of abstract obscurities, tactical thought tangents and hilarious moments.
Noble's highly improvised, spur-of-the-moment comedy makes him quite hard to review, as no two of his shows are ever alike. Known for appearing on stage with a very loose (or sometimes no) plan on how to proceed, Noble instead looks for the funny in what he sees before him, turning the whole idea of observational comedy on its head. In fact, tonight's show is sort of like Live At The Apollo on acid. Noble bounds on stage, bubbling with energy and rarely standing still – like a grinning embodiment of his agile, mile-a-minute mind – and starts his set by using the first row of tonight's crowd as a jumping off point. Before we know it we're in fantasyland; laughing at unusual fringes and helium filled rubber pants. Much like Noble's random comedy, the laughs come thick and fast.
It's not all whimsy though. The tail end of part one suddenly gets you thinking, as Noble injects his out-there gags with a hard hit of social satire and wit, proving there's much more to him that bizarre flights of fancy. The most impressive thing about Noble however has to be the man's mental agility. Watching him flit from one random scenario to the next without missing a beat or any minor gags in between is undeniably admirable, all the more so when you remember that almost no prior planning has gone into the jokes he's firing out, and at an alarming rate to boot.
There's lots of crowd participation at tonight's show, something the inhabitants of The Lowry lap up with aplomb. Gifts left on stage at the start of act two inspire an elaborate tale about Gwyneth Paltrow's ill-fated encounter with a tube train door that somehow segues into a very blue section about avian lovemaking. At one point, whilst Noble is curled up in a ball in the middle of the stage, gently hooting and mimicking what it might be like to 69 an owl, he stops to remind everyone of the reality of the situation. "This is my job," he says soberingly. It is indeed, and tonight's crowd love him for it.
Keep up to date on all the latest Northern entertainment news by following us on Twitter, Facebook and Google+.