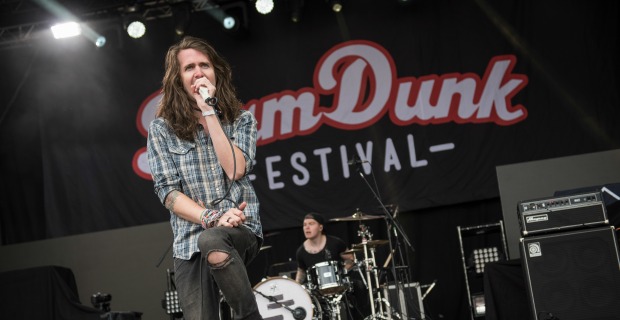 With guitars primed, beer flowing and most importantly, the sun shining – Slam Dunk Leeds kicked off the 2016 festival season with a day chock full of sound. Celebrating its tenth year, the show took over a considerable chunk of Leeds City Centre and scheduled two additional stops in Birmingham and Hertfordhsire across the long Bank Holiday weekend. A fine sign of just how far things has come since its meagre beginnings. What started as a student club night in the city has quickly graduated into an award-winning fest; attracting big names, tomorrow's exciting newbies and – crucially – throngs of pop-punk punters. It's no wonder there's a distinct party atmosphere here this weekend. Slam Dunk deserves a big blow out for hitting double digits.
The festival itself is sprawling yet contained. In addition to its sun-soaked main stage, crowds cram themselves into neighboring bars, Leeds' cosy O2 Academy and a number of smaller pop-up stages across the concreted site. With so much on, it's tricky for this one Northern Noiser to soak up absolutely everything that Slam Dunk 2016 has to offer. That said, we still managed to catch a good portion of the fun, starting with Kent's emo-punk foursome Moose Blood on the main stage. As the festival's central hub, this spot saw an impressive line-up pass under its lights while Leeds got a little tipsy and a lot sunburnt.  Up next was Tallahassee's Mayday Parade who kept spirits high through the mid-afternoon high with familiar tracks like "Jersey" and the anthemic "Jamie All Over".  If shoeless frontman Derek Sanders looked like he was having fun, it was nothing compared to the crowd he was playing to.
Mysterious technical issues got the better of Yellowcard whose plans of playing 2003's breakout record Ocean Avenue in its entirety were slashed in half, yet they managed to squeeze a few hits in. Meanwhile over in the darkness of the O2 Academy, elusive Philadelphia foursome The Starting Line made a welcomed return to the city, giving their new EP Anyways an airing in between a selection of fan-faves. While the main stage soaked up the last of the sun, pop-punk veterans New Found Glory delivered a set littered with hits and even a few requests courtesy of a trio of giddy mega-fans invited onto the stage. While Jordan Pundik and co played, across the other end of the festival site Brummy Ska legends The Beat had a pocket of Slam Dunkers skanking as the evening took over, in a much smaller but equally as fun set.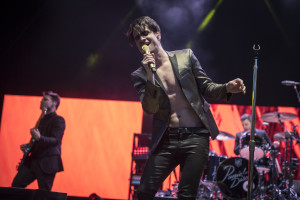 From there, it was back to the main stage as Panic at the Disco brought the bright lights and theatrics of their native Las Vegas to urban Yorkshire. With the recent release of their fifth studio album Death of a Bachelor, it's hard to deny the fact that this band have successfully transitioned from plucky daytime act to official headline material. All the expected tracks made an appearance, with an impromptu rendition of Queen's "Bohemian Rhapsody" proving to be a nice added extra.
Slam Dunk 2016 may not have been in a field or even had any mud – but it certainly got the 2016 festival season off to a fun start and proved a suitable primer for the summer ahead. Same time next year?
Words by Simon Bland (@SiTweetsToo). Images courtesy of Ian Collins.
Keep up to date on all the latest Northern entertainment news by following us on Twitter, Facebook and Google+.