This bank holiday weekend saw a collection of Mancunian venues play host to one of the most eclectic and uniquely Northern events of 2012. Sounds From The Other City was designed to showcase the best musical and cultural entertainment Salford and Manchester have to offer, and it did just that. By attracting artists from all walks of life and from all over the world, this year's event was bigger and better than ever. On Sunday the 6th of May, Salford's Chapel Street was transformed into a motorway for culture enthusiasts. One by one they traipsed up and down its concrete walkway as if on a huge musical pub-crawl. Northern Noise was there to soak up the atmosphere, check out some live music and find out first hand what all the fuss was about. Needless to say, Sounds From The Other City didn't disappoint.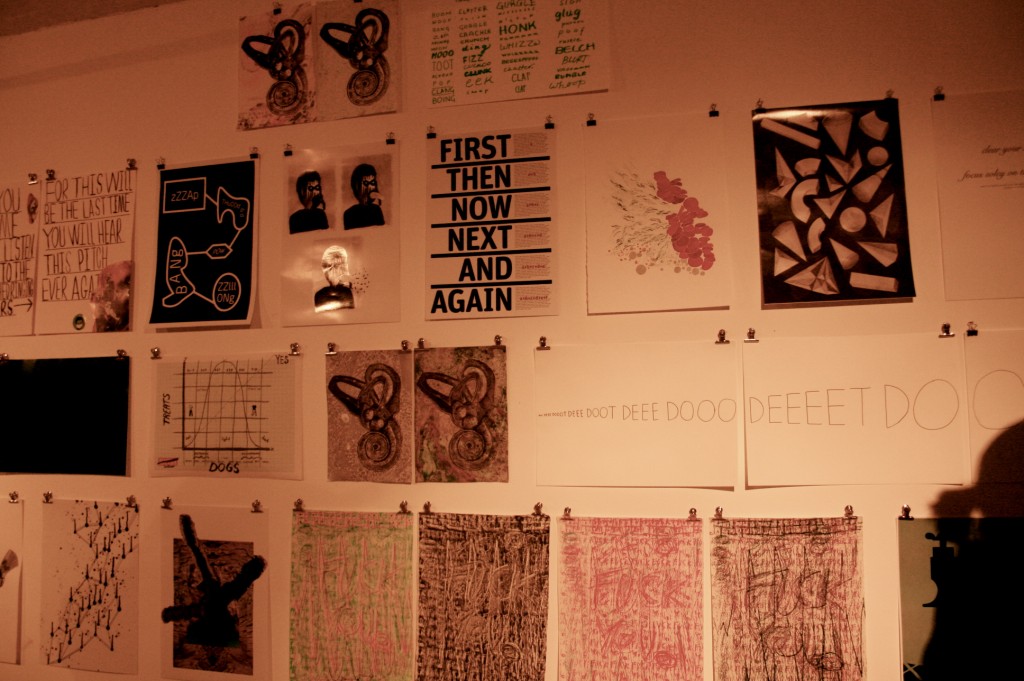 We started at the beginning or Islington Mill to be more precise, ticket collection point and cultural hub for this year's proceedings.  Enter into this multistory gallery-turned-gig-venue and you're treated to a plethora of aesthetic pleasures as each wall is decorated with an overgrowth of makeshift artwork. Past a collection of hanging red party hats comes a troupe of clanging performance artists dressed in Gothic rain dance attire. A bemused crowd watches them jauntily plod their way through the building and into a large exhibition room. It's Sophie Lisa Beresford's Makina rain dance and they're just one of nine visual performances that'll be appearing in Albert Mill's Panoply throughout the day.
After the sounds of the rain dance fade into the distance it's time to head into Islington Mill's live music space to catch Northern act The ABC Club play to a packed out crowd. This shoegaze rock act performs a tight and impressive set. Fronted by their soft-spoken leading lady Zandra Klievens, their nonchalant stage presence leads you to believe they have nothing to prove. By the end of their brief set, it's clear that behind their youthful appearance is a professionalism beyond their years. It's a good start to the day and an even better way to kick off Now Wave & Off With Their Heads' portion of today's events.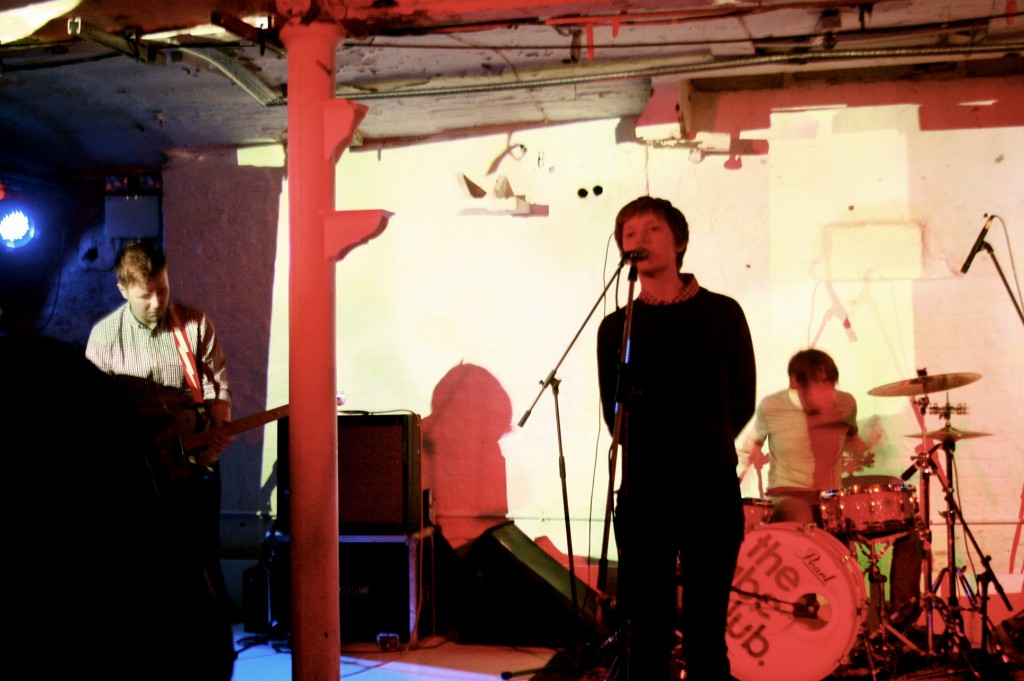 From indie-quirks to hard-core punk, next up we swing by The Crescent pub to catch the tail end of Heroin Diet's intense set. With no barrier between crowd and band their show was an in-your-face piercing scream that was welcomed by the cramped inhabitants of this Salford local with welcome arms. From here on out we follow the throng of beer-swilling youths up Chapel Street taking in a slice of each venue along the way.
A brief stop at St Phillip's Church provided us with one of the highlights of today's proceedings as we experienced an intimate performance by My Withered Hand. Nestled in between a jumble of instruments on a church altar, singer Dan Wilson resembled a guitar-wielding preacher showering his seated congregation with chirpy folk songs. This holy backdrop provided Hey! Manchester with perhaps the most atmospheric venue of the entire event.
The distorted tones of girl-rock trio No Womb welcomes us into The Rovers Return where a rabble of punters have gathered to check out this self professed 'anti-feminist' punk act. Their rough and ready arrangement of low-fi noise-rock mixed with rumbles of shouty grunge result in an proudly unpolished performance that leaves little to the imagination. As we head back towards The Kings Arms, much like everyone else we're left discussing what we had just heard, undeniably the intention of this ballsy Mancunian act. When we arrive at the venue we're treated to a different kind of low-fi, this time its from minimalistic singer Cole Moldy who, having completed a handful of laptop-aided ambient tracks, performed a touching rendition of Unchained Melody on acoustic guitar.
Part 2 of our Sounds From The Other City live review will be up soon. Watch this space!
Be sure to 'Like' us on Facebook and follow us on Twitter to keep up to date on all the latest Northern music news!
Words by Simon Bland.