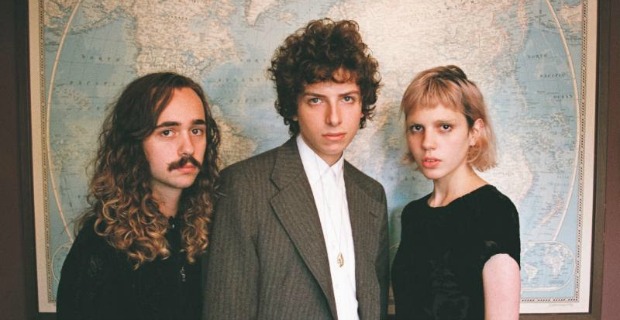 Gigs like this one must happen all the time in Manchester. A band books to play one of the city's many intimate venues, the kind that's full of character and funny smells and not much else. Then, in the time between tickets going on sale and the actual event, their presence skyrockets. This is certainly the case for Sunflower Bean, the Brooklyn trio who have caused a wide range of music lovers to converge in The Soup Kitchen's dank basement music hall.
Clearly the band are experiencing a moment of exponential change; they're on the way up and arguably already too big for the tiny room they're playing tonight. However, a quick glance around reveals more variety than the typical charity shop-denim-wearing students that you might expect from a show like this one. Perhaps these unlikely fans are going in on a blind whim? Perhaps it's a testament to longevity of the band's neo-psychedelic pop sound and its ability to transcend sudden flash-in-the-pan success? Either way, it's good news for Sunflower Bean.
The band look like they're enjoying themselves, too. Guitarist Nick Kivlen stays mute for most of the show – between tracks that is – concentrating his efforts on churning out a wall of heavily reverbed sound. Bassist and vocalist Julia Cumming is more lively, starting the night with a bit of light conversation before converging with Nick and frantic drummer Jacob Faber to kick out some welcome tracks. "Our new album came out ten days ago," says Cumming lazily before starting the set, "which means it's old now," she adds, smiling.
The band's blistering debut Human Ceremony takes centre stage tonight, a record that's given a new intensity when performed live. The album's title track sets an introspective tone for the evening while Cummings' gentle vocals give "Easier Said" a suitably dreamy air that floats across the room. "Somebody Call A Doctor" has the trio drifting into a psychedelic rabbit hole of guitar jams and hypnotic bass and drums. They constantly bring you to the brink of getting lost but don't quite go far enough. Before you know it, some surprise technical playing and intricacy snaps you right back into the room, demanding your attention. Pounding track "Wall Watcher" really comes to life on stage, rousing the audience in a round of 'Youuu's' alongside Cummings and setting viewers off in a sea of involuntary body twiching in time with the music.
The band's set is over relatively quickly much to the dismay of the eager crowd, and a chorus of chants lead the band to perform their first encore of the tour. There's no doubt that you can expect Sunflower Bean to return to one of Manchester's bigger, fancier venues next time they're touring through our turf. In the meantime though, they've definitely left a lasting impression.
Words by Simon Bland (@SiTweetsToo).
Keep up to date on all the latest Northern entertainment news by following us on Twitter, Facebook and Google+.