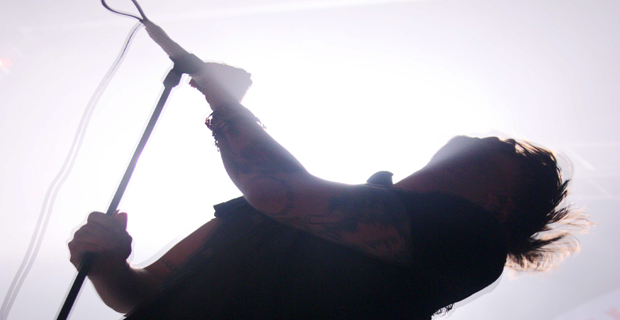 Taking Back Sunday has played Manchester before, but this time things are different. As the music scene they helped forge began to evolve, this Long Island five-piece very nearly fell victim to the dangers of Emo-natural selection. Luckily they stopped to assess the situation and in doing so reteamed with original guitarist and vocalist John Nolan and bassist Shaun Cooper. Now, over a decade since the band formed, they're back to basics, back to the line up that spawned their frantic debut Tell All Your Friends and back in town to play their first ever Manchester gig as the original Taking Back Sunday.
Perhaps this would explain the feverish excitement rippling through a crowd drunk on anticipation (and beer) for tonight's show.  As soon as the lights dim and the music starts, it's clear that the band have been re-energised by their reunion. New album opener El Paso kicks off their set, firing into the crowd like an electrical surge.  Adam Lazzara's trademark mic swinging skills get put to good use during such emotionally charged tracks as Make Damn Sure, You Know How I Do and Liar (It Takes One To Know One).  The stage equipment turned circus trick gets flung skyward, out over punters' heads only to pulled back and wrapped tightly around the singer's neck. Lazzara gets in a lot of swinging practice tonight, and it's a skill that's just as impressive as ever.
Speaking of impressive stage acts; Lazzara has unconsciously pulled off a much bigger feat. Looking around the venue, it's hard not to notice the number of girls at tonight's show – every pair of glassy, heavily made up eyes are fixed firmly onto the flamboyant frontman.  As the band power through a career spanning set, coupling new single and crowd fave Faith (When I Let You Down) with classic's like Bike Scene and the lustful One Eighty By Summer, Lazzara does his best to seduce the masses.  He makes the eyes, sings directly to frenzied female fans and does everything short of impregnating this Mancunion rabble, all the while caressing and climbing on every part of Manchester Academy's stage.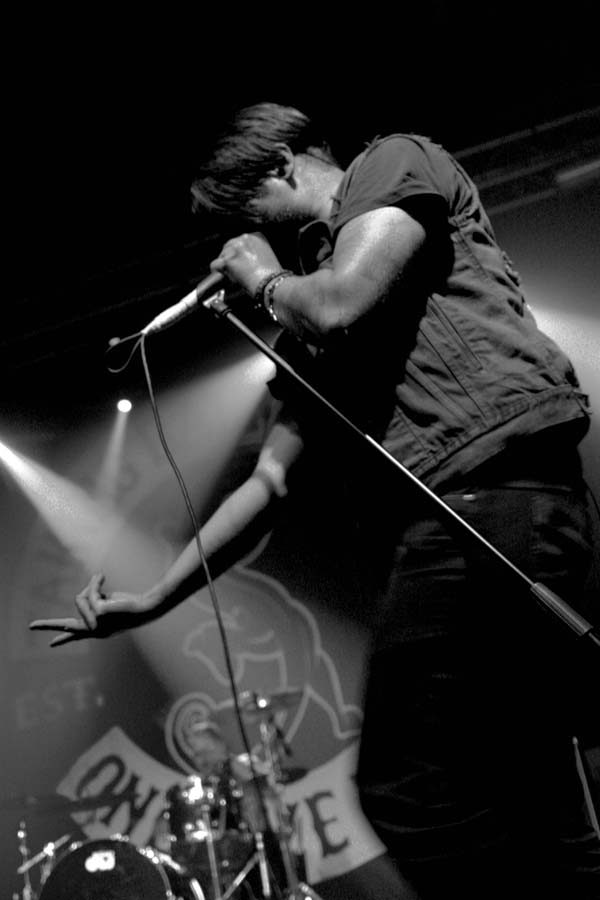 But what's Emo without a bit of romance? The guys at tonight's show take just as much pleasure from hearing their beloved tracks executed with gusto.  Timberwolves At New Jersey works the crowd into screaming swarm while A Decade Under The Influence gets an angsty revival.  A quick band reintroduction eases listeners into a rendition of Existentialism on Prom Night from John and Shaun's former band Straylight Run, proving that they won't forget what it took to get them back here anytime soon. Meanwhile newer tracks like This is All Now and You Got Me sound like soon-to-be set list staples.
It's at this point where Lazzara's relationship with the crowd reaches a boiling point and he jumps straight in. After a brief lovers tussle, he's back on the stage just in time for Taking Back Sunday to pull out a few final classic tracks. A rare performance of Ghost Man On Third resurrects that feeling of Emo nostalgia; Cute Without The 'E' closes out their main set in the way only it can, and a bittersweet one song encore of No 'I' in Team leaves Manchester wanting more. Yep, Taking Back Sunday are back where they started and things couldn't be better.
Words by Simon Bland.
All photography courtesy of Emma Stone.