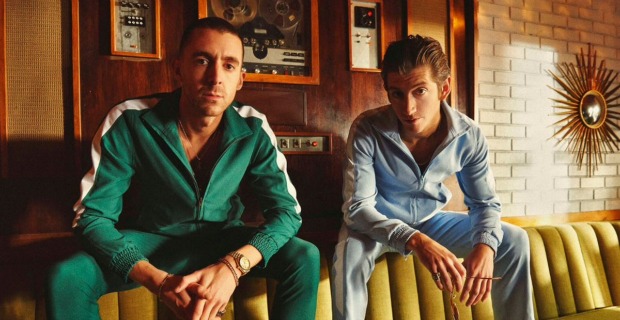 The Last Shadow Puppets' eagerly anticipated bowl gig arrived just after the release of their stunning second album Everything You've Come To Expect, which gave us rollicking guitar licks and sensual songwriting all wrapped up in a little pretty package delivered personally by 2016's version of Jackies poster boys. The gloomy Manchester weather was unable to dampen the spirits of a revved-up crowd wigged up in brown curls and TLSP printed baseball shirts, excited for the arrival of the two (now very manly) men who brought them two very meaningful albums. Opening the show was Yak, a three piece from Wolverhampton armed with heavy grunge, a singer easily mistaken for Thurston Moore and an energetic drum-driven set that was unable to warm a limited drunkening crowd. Up next was Gaz Coombes, former Supergrass frontman and all round crazily talented being who powered through hits from his solo album Matador creating a serene atmosphere, special to fans but slightly too calming for a warm-up that was to round up this year's Sounds of the City.
Stage manoeuvred, orchestra placed and glittery purple and yellow glowing curtain set, it was now time for the boys to hit the stage. Bouncing on to a roar of excitement from both Turner, Alex and the crowd, it's not long before a very Manc voice from the crowd screams "it's fookin Johnny Marr!". That's right, Johnny Marr was up there, Jaguar in hand, hugged by a slim fit back suit blaring out The Smiths' classic "Last Night I Dreamt That Somebody Loved Me". If you're a fan of Northern gems (and we are), The Last Shadow Puppets may have won the prize for best opening set of 2016. Giving his pals a well deserved hug, Marr leaves the stage and the gig kicks into full swing already fuelled by the buzz from the delight that has just graced us all.
"Aviation", the second track of the night, is almost a homage to Marr and his legacy. A dreamy riff that's grounded by the eerie screeches from the orchestra dispersing the crowd into a loved up boogy. Dropping in "The Age Of The Understatement" next, creating a sing along loud enough to fill Manchester itself, it proves how important Turner and Kane's relationship is. Their creativity fits together perfectly and is an inspirational pleasure to watch. "I've got a feeling something terrible is about to happen, Manchester" teases Turner in that droney Americanised voice before the band burst into "Bad Habits", bouncing around the stage, much like the audience who at this point are living for that gorgeous bass riff, limbs flying everywhere, forgetting where they are. Other highlights of the set come in the form of "Only The Truth" a song made for a 1970's Western film, full of pow-pow guns and cowboy hats and "In My Room" perfect for a James Bond soundtrack.
Turner and Kane leave the stage declaring that that was their last song but shortly return, again with Johnny Marr in tow to smash out a cover of "Totally Wired" by The Fall, proving once again their love of Manchester music and showcasing a completely electric performance with lightening bolt style lighting and Turner, with a claw like hand in the air looking like he was performing an exorcism on the crowd. Completely worn out by the intensity of this séance like spectacle, the band finish on the romantic "Meeting Place", winding down the night with a song that forces strangers to grab each other for the last special sing-along of the night, 5,000 grinning faces with voices in sync becoming quite emotional with the whole experience. A very precious ending for everyone present.
Words by Emma Davidson (@_EmmaDavidsonn).
Keep up to date on all the latest Northern entertainment news by following us on Twitter, Facebook and