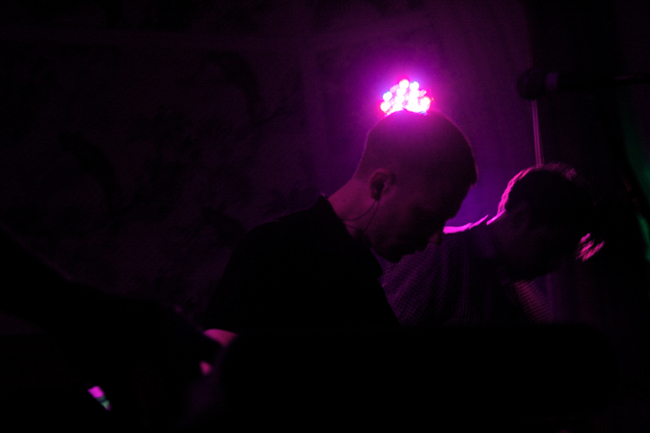 Sweden's The Radio Dept. would be a great band to watch stoned.  Not laugh-yourself-puking stoned you understand, just nicely toasted.  They've often been labelled 'dream-pop' and their live performance lives up to this sentiment completely.  Quiet and unsuspecting, seeing this nonchalant indie trio is like spotting an endangered animal – not least due to the fact that their live appearances are few and far between.  To catch them this far from their hometown of Lund is for most fans a dream come true.
A UK trip has been long overdue and tonight they're in town to open day one of this year's culturally eclectic FutureEverything festival. Soft spoken and bathed in a sea of atmospheric red light they start things off with Domestic Scene from 2010's Clinging To A Scheme, transporting the crowd into a subdued-rock dreamscape. 
This Time Around keeps the buzz going, carried on the back of frontman Johan Duncanson's ever so slightly distorted vocals.  It's not long before the Deaf Institute's intimate theatre becomes a mess of gently swaying bodies, each with a warm smile plastered across his or her face.  Making the room's inhabitants look, for lack of a better term, well, slightly toasted…
Except there are no illegal substances here (The Deaf Institute's a respectable joint) they're high on The Radio Dept.'s intoxicating back catalogue.  Keen On Boys and Ewan from 2003's Lesser Matters takes things back to their fuzz-rock beginnings while Lost and Found and The Worst Taste in Music from 2006 record Pet Grief make fine use of the band's fascination with electronic drums.
Quiet and to the point, The Radio Dept. demonstrate an almost IKEA like European efficiency.  For an indie-rock band with a collection of pre-recorded beats in place of an on-stage drummer, live shows must be carried out with expert precision. This results in a very no-nonsense stage presence but one that's warm and welcoming, a bit of an oxymoron – but it's true. Their set tonight is expertly crafted and interspersed with frequent smiles and thanks from a clearly grateful band.
Edging towards the end of their set, the trio set their sights on newer material. Clinging To A Scheme's David gets the crowd moving in unison with its retro synth and a beat that demands some light head nodding, while the happy-go-lucky Heaven's on Fire takes full advantage of the crowd's newfound energy.  However it's not long until the band return to laid-back territory.
Passive tracks Never Follow Suit and A Token Of Gratitude close out tonight's show leaving the crowd in a lingering trance.  Careful not to pop the perfect little bubble they've cast over The Deaf Institute, they leave an encore until next time.
Get more info on The Radio Dept. here.