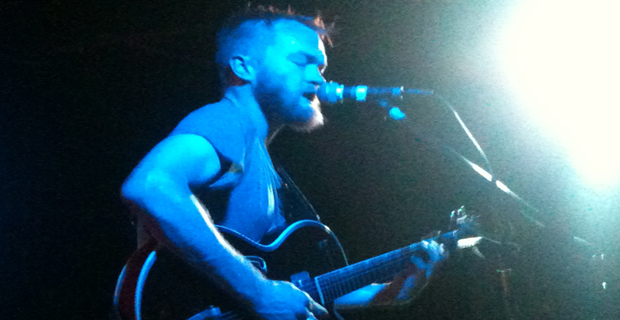 It's the middle of summer and it's hot in Manchester, but not outside. The grey-green clouds looming overhead have just treated these bustling northern streets to an impromptu shower.  However, inside Manchester's Night & Day Café the temperature's through the roof.  You can thank Two Gallants for that.
Having dropped off the radar for two years the super-powered folk rock duo are back together and back on tour.  And it couldn't have come any sooner.  As guitarist/vocalist Adam Stephens and drummer Tyson Vogel quietly take to the modest Night & Day Café stage tonight they're drenched in crowd adulation. Tonight's show has been sold out for months and fans are eager to get reacquainted with San Francisco's best kept secret.
Their reunion seems to have come with a pent up burst of inspiration as new tracks are flecked throughout tonight's setlist.  Perhaps Two Gallants are using this tiny tour to test the waters.  Old favourites are thrown out to the rabid crowd as if the band needs to check that they still remember their sound. They do. Every moment of silence is swiftly punctured by fans hurling their requests towards the stage, all of which are met with a warm smirk from Stephens.
Despite What You've Been Told makes the windows of the Night & Day Café tremble, a fast paced folk-rock track given a grunge twist thanks to Vogel's relentless drumming.  Steady Rollin' is met with open arms, Las Cruces Jail shakes the foundations of the bar while the nostalgic Nothing To You returns listeners to the simple folk sounds that caught their attention in the first place.
However it's the new tracks that prove to be the highlight of tonight's show, teasing fans with a glimpse of the band's next studio release. A cover of Abner Jay's I'm So Depressed pulls at the heart strings one minute while a White Stripes-esque rocker showcases Stephens' howling vocals and spit-fire guitar playing the next. It's clear the band have no shortage of world weary inspiration. Vogel takes a break from his trademark ferocious drumming to harmonize with Stephens on a moody new one tentatively titled The Blacker The Berry before abandoning his kit altogether, adopting a tambourine and joining Stephens at the mic. What follows is a touching rendition of the tender Broken Eyes, a stripped down country love song that utilizes the full potential of a harmonica and acoustic guitar combo.
After being demanded back to the stage fans are offered Long Summer Day as a parting gift to get their pulses racing before a quick gearshift ends things on a sombre note. "I've been gone so long, it seem like home to me" sighs Stephens during the anthem-like show closer, lines that take on a new significance during this eventful time in Two Gallants newly reformed career. Maybe they were right where they needed to be all along.
Words by Simon Bland.
Find out more about Two Gallants right here.