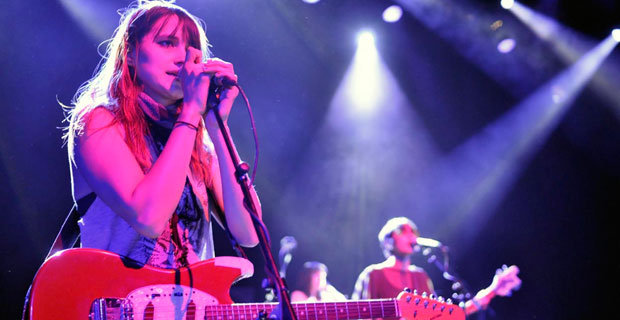 There's something haunting about Warpaint's darkly layered post-punk.  Despite being from happy-go-lucky Los Angeles, a gothic intensity stands this 'girl band' miles apart from the carefree, beauty obsessed, City Of Angels. Contrast them with the successful surf-pop of fellow LA outfit, Best Coast, and it's easy to see why their subversive sound is as unexpected as it is chilling.
Those expecting sunshine-breezy escapism are left coldly placed back in the reality of rainy Manchester. But where would be more fitting to see such an entrancing act than the birthplace of Joy Division? The four-piece share the same aptitude for experimentation with spaciousness and atmosphere. Tonight however in the literal sense breathing space is at a premium. The Ritz is jammed with ticket holders, eager to see the culmination of FutureEverything festival.
In terms of atmosphere, things are a little subdued as the set gets underway, with the fully intended musical languor accidentally passing over to the crowd. Warpaint, the self-titled album track is delivered excellently; with the first three-part harmony skilfully whispered across a Sonic Youth influenced guitar rhythm. Bassist, Jenny Lee Lindberg, swoons across the stage while meeting the gaze Stella Mozgawa whose ferocious drumming comes to the fore amidst subtle melodies.
Three tracks in and Bees gets people going with its automated drum loop lending an urban futuristic feel.  Fans of last year's Mercury Prize winners, The xx, will certainly draw comparisons with this eerie number.  It isn't until their biggest hit to date, Undertow, emerges that the mood lifts, as do the arms of many with cameras in a desperate bid to capture a digital glimpse.  Here is the moment everyone has seemingly been waiting for. Alluding to Suzanne Vega's Luka and Fleetwood Mac's Dreams, this an already timeless sounding piece of music, performed effortlessly. Frontwoman Emily Kokal responds to the shift in energy, spinning around in her patchwork dungarees adding a light touch to the powerful set.
The ten song set combines highlights from debut, The Fool, and earlier EP, Exquisite Corpse. A moment from the latter provides the high point. Billie Holiday, which lends heavily from Mary Wells' Motown classic, My Guy, sums up things perfectly. A soulful lyric of adoration is placed inside an introspective framework, feeling like a mournful outpouring of scorn for a lost relationship. Tonight there's lots of adoration for the band from a seemingly introspective crowd.
Words: Simon Butcher
Other News
FutureEverything: The Radio Dept. Live @ Deaf Institute
FutureEverything Preview
Slam Dunk Festival Preview