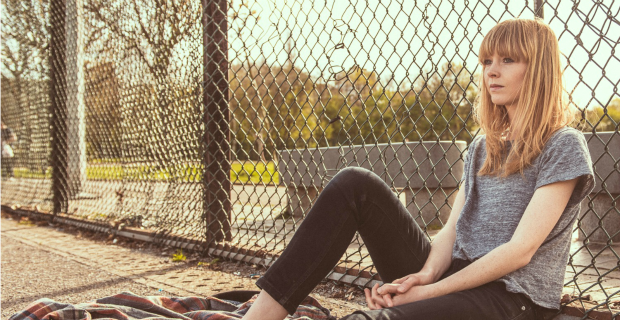 There is undoubtedly a certain pressure when bands and artists embark on a tour in which one or more of the dates are in Manchester. The rich musical history has moulded a sky high standard for performers, as there is clearly a lot to live up to in what could be called the music capital of the UK. However, one songstress that doesn't seem to be hugely phased by the infectious pressure is Lucy Rose, the Warwickshire-born singer songwriter with two successful albums and a humble, elusive personality.
Following support from Billie Marten, a similar sort of indie folkstress to Ms Rose, and Jake Isaac, a soulful acoustic talent, the headliner for the evening approached the stage. Donning that trademark fringe, classically casual outfit and Fender Jaguar, Lucy Rose prompted huge applause and whistles from the otherwise timid crowd.
They listened in quiet respect throughout the 17 song set, which began with her newest single "Like an Arrow". The catchy, melodious chorus is likely to stick in the minds of everyone who hears it, which surprisingly isn't a bad thing. It's innocent easy listening with a twist of unembarrassed, sincere heart.
Much of the set comes from Rose's second album Work It Out, which is laced with bolshie basslines and groovy, twitchy arrangements. "Our Eyes" and "Koln" are Bombay Bicycle Club-esque tracks which bounced around the room. Naturally, fan favourites "Middle of the Bed" and "Shiver" from her first album provoked a singalong from the entranced crowd. However, aside from the element of fun, there were moments of genuinely impressive musicianship and enough interesting tempo variations to surprise even the most cynical attendees.
The lyrics of Lucy Rose's songs are never really a poetic masterpiece, but this doesn't seem to matter as much when her frankly gorgeous voice echoes around the room. With harmonies on point and spotless backing from her band, it's difficult not to enjoy yourself whilst watching them perform. For some people, it is difficult to understand the attraction to whispery vocals and quiet, acoustic guitars. Surprisingly though, Lucy Rose did not stick to said potentially less attractive elements, and was notably thoroughly putting her all in onstage.
There's a fierce, unexpected tenacity in Rose's voice that doesn't come through in her records – a whole new passion and excitement seems to be unleashed when she performs. The Guardian once said that she needed "a little less polite conversation, a little more grit", which couldn't be more fallibly inaccurate: she's not only audibly strong in her ability, but visibly, too.
An unpretentious Rose endearingly babbled between songs, mostly thanking her band and an unsuspecting audience member, who unknowingly inspired her track "She'll Move" with a letter. Her personality shone through more than it does on either of her records, which is a shame, as Lucy Rose possesses an abundance of charm. When the echoing chants of "encore" from the crowd failed to live up to her standards at the tail end of the gig, she was unembarrassed when exclaiming: "that was the shittest encore ever!".
Where the audience may have lacked in participation with the encore, they made up for with raucous applause elsewhere and genuine adoration for Lucy Rose. Small technical issues didn't hinder her performance massively, and the crowd was gracious and accepting throughout. Her enigmatic stage presence, teamed with how near-perfect her performance was makes for a winning combination. It could even be said that a magical evening was had by all in attendance, including the modest Ms Rose herself.
Words by Samantha Ewen (@FakeTalesofSam).
Keep up to date on all the latest Northern entertainment news by following us on Twitter, Facebook and Google+.