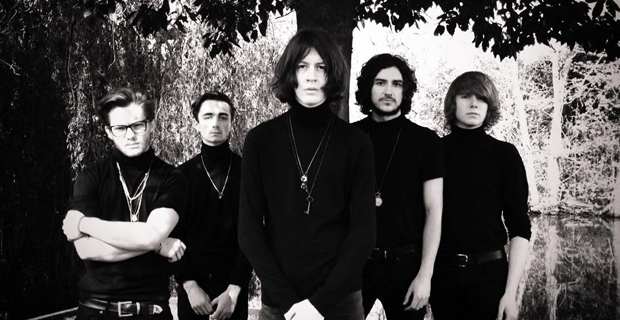 Stockport five-piece Blossoms leave us feeling trippy (in a good way) and lightly psychedelic with their debut EP 'Bloom'. Formed in 2013, the band comprising of young'uns Tom Ogden (vocals and guitar), Charlie Salt (bass and backing vocals), Josh Dewhurst (lead guitar), Joe Donavan (drums) and Myles 'The Plant' Kellock (keys) combine a 60s retro feel and classic British pop lyrics reminiscent of the Merseybeat sound.
The track 'You Pulled A Gun On Me' in particular takes a woozy organ-driven psych melody together with crooning lovesick vocals of desire and tight harmonies from Ogden and Salt that wouldn't feel out of place in '68. Other tracks such as 'Madeleine' and 'Blow' have garnered similar feedback, showcasing the band's heavier side with impressive guitar solos and lyrics that just won't leave you.
The self-described 'mosaic quintet' are nothing but true to their nostalgic image – think shaggy haircuts, moody black and white videos and guitars worn on the waist. That's not to say these guys are a throwback in any way. The influences are evident, but only for points of reference. There's a certain fresh take to their music, more of a 'revival' than a straight-up imitation or mimic. Blossoms take what was great about 60s tunes – the harmonies, the catchy lyrics and bring it into 2014 with a psych-tinged indie pop twist for our listening pleasure.
After a stint of gigs through Belgium and France, Blossoms are currently playing their way through UK dates including a number of support slots for The Rifles – and since the release of the haunting 'You Pulled A Gun On Me', the band are quickly gaining a buzz in and around Manchester – particularly for Odgen's 'solid vocals' – adding only to the city's impressive alumni of pretty mega bands.
If you like a bit of 60s psychedelia, Merseybeat, Miles Kane and/or The Last Shadow Puppets, The Doors, The Coral or even some of The Horrors' organ-lead tunes – you'll probably like these guys. If you like lying on your bedroom floor listening to vinyls and wishing The Zombies were still at their height, you'll definitely like these guys.

Blossoms debut EP 'Bloom' available to download now.
Twitter: @BlossomsBand
SoundCloud : /blossomsband
Youtube : /BlossomsBand
Words by Catherine Allan (@Cattface).
Be sure to 'Like' us on Facebook and follow us on Twitter to keep up to date with all the latest Northern entertainment news!