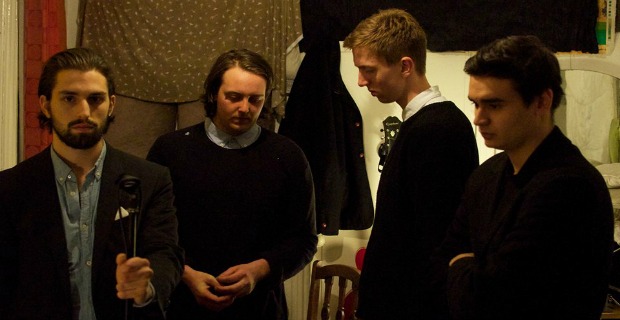 Manchester spawns many an alternative rock guitar band, sometimes it seems like there's a new one every week – so what do new, young, unsigned and unproven five piece Easy Kill have to make them stand out from the crowd? The jury is out and time will tell but for now they have a set two songs out from which to judge their merit.
First up is "Layers", which starts out with the soft plucking of melodic guitar strings and building layers of echoing of percussion as lead singer Theo Tobias breaks into lyrics with a deep voluminous voice that could easy become a trademark. Chanting lyrics and tight arrangements of cymbal, drums and subtle guitar lead the song through its first verse as the lyrics ponder locked doors and drawn curtains. The track then breaks free into a richer, flowing rhythm as Tobias' voice rises and falls in an alt-pop Morrissey-esque fashion. The slow careful pacing and the deep low vocals put the band in line with other indie rock contemporaries such as The National. Their other track, "No Sorrow", is still in a demo phrase but it's equally melodic and calming to listen to, guitarist Ronan Clowes drawing a delicate and gorgeous tone from his instrument as understated and achingly gentle vocals hum and hover over the twinkling melody invoking images of peaceful and innocence nightfall after "the anguish of the day".
The band are still preparing to release their first EP but if their music sounds like something you want to hear more of, you can catch the band at one of two upcoming gigs on the 26th October and again on the 8th November at Matt & Phreds and The Roadhouse respectively. The band have been gigging a lot round Manchester so they've got the live practice needed to put on a slick live show and are bound to deliver a great night of their atmospheric rock songs and intense focused energy.
Words by Conori Blue (@ConoriBlue)
Keep up to date on all the latest Northern entertainment news by following us on Twitter, Facebook or Google+.