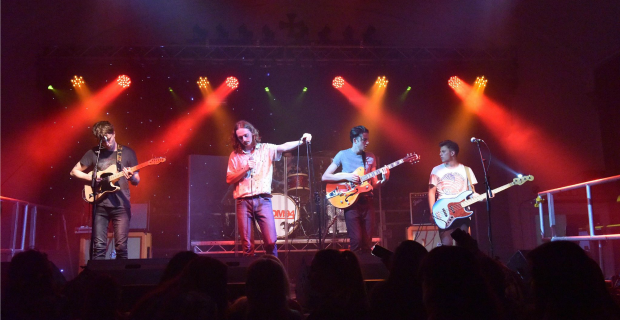 With Reading and Leeds 2016 just around the corner, the preparations for one of the most popular music festivals the UK has to offer are in full swing and the countdown has finally begun. Reading and Leeds has played host to thousands of top class bands over the years and has also given many the ability to be thrust deservingly into the limelight. Leeds based competition Futuresound has continued to provide local acts with the unbelievable opportunity to compete in a musical talent competition in which the prize is to join their heroes onstage at the 3 day spectacle. The competition offers a main slot on the Lock Up stage and gives 5 runners up the chance to perform on the BBC Introducing stage which has previously been graced by huge acts like Florence and the Machine.
This year's winners are Leeds based quintet Fighting Caravans, highly fitting for fans of Drenge and angst ridden alt-rock. Their bluesy, melodic guitar sound are combined with a heavy grunge soaked bass, creating that devilish tone we all mischievously love. Frontman Daniel Clarks' eery vocals are cast out in the haunting "Blue Heart Motel" that screams 1960's Psycho and even echoes early Metallica riff rock. Pulling influenes from band such as Queens of the Stone Age and Radiohead, both of which have previously headlined Reading and Leeds, it looks like the five piece are on their way to following in the footsteps of their own beloved pin-ups. With strong local success, the band already have a growing and faithful following which is soon to be doubled after their festival appearance.
Fighting Caravans have only a relatively small selection of their music available online but are definitely set to surprise audiences with new material during their current live shows and Leeds festival stint. They've battled against 39 other bands to earn their top spot on the Lock Up stage where they will play alongside bands such as Good Charlotte and the controversial The King Blues to an audience of 9000 people.
Recently, Fighting Caravans also got the chance to meet current high rising chart toppers Blossoms who have been described as 'the perfect example of what can happen to a band in the space of a year'. Pulling influences from Depeche Mode to Tame Impala, Blossoms carry with them an inspirational outlook on the current modern music scene. Starting out themselves as playing local pubs and small venues around Stockport, they shared experiences and gave very handy advice to the winners ahead of their huge festival gig. They may have a tough act to follow, but Fighting Caravans are more than capable of soon becoming our favourite new band.
Words by Emma Davidson (@_EmmaDavidsonn).
Keep up to date on all the latest Northern entertainment news by following us on Twitter, Facebook and Google+.