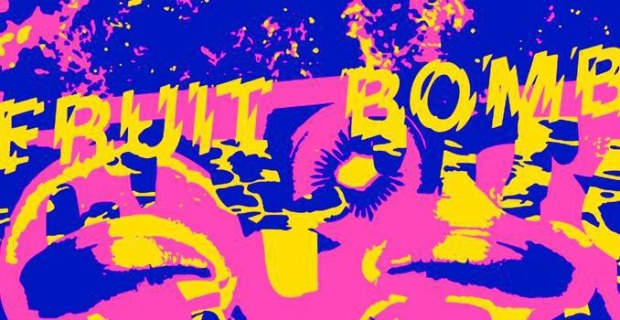 Punk upstarts Fruit Bomb are an energetic four-piece with ties to both Manchester and Sheffield, but their music suggests they look further afield for their influences.
Although new single "Goin' Home" recalls the intro to "Roll With It" for much of its raucous three and a half minutes, it isn't the Gallagher brothers who inform the direction this young band seem to be taking.  Their approach suggests that the band would most likely feel at home as part of New York's CBGB's scene of the 70s, rubbing shoulders with the Ramones and such at the legendary club.
It is the ear for melody that the Ramones had as much as their raw energy that draws this comparison, as too often the 'here's three chords' approach holds back bands that fail to realise quite what made the greats great in the wider arena of pop culture – the concept of 'catchiness'.  Sacrilege to some die-hards maybe, but it seems to be present in the thinking of Fruit Bomb in what they've given us so far, as well as in frontman Ben Thompson's other band Nai Harvest.
In Goin' Home's youthful DIY sound we find the band sticking to what they showcased on first single "Normcore Girlfriend" – the kind of ramshackle approach that lends an edge and vitality to proceedings, and that was so key to the sound of much of their peers. "Normcore Girlfriend" sounds like something straight out of an old skate video, a more frenetic predecessor to "Goin' Home" that marries lyrics of teenage longing to a backdrop of lively drums and distorted power chords – the perfect pop-punk combination.
"Goin' Home" has recently been featured on NME.com, and its simple but memorable chorus will surely find the band more in demand as a result of the exposure, despite their lack of much of a back catalogue.  This will only increase the buzz and expectation surrounding the lead up to their next release, mooted for early next year.  Recent hometown shows have further whetted the appetite for Fruit Bomb – expect bigger things next year.
Find out more about Fruit Bomb by visiting their Bandcamp page or on Facebook and Twitter.
Keep up to date on all the latest Northern entertainment news by following us on Twitter, Facebook and Google+.