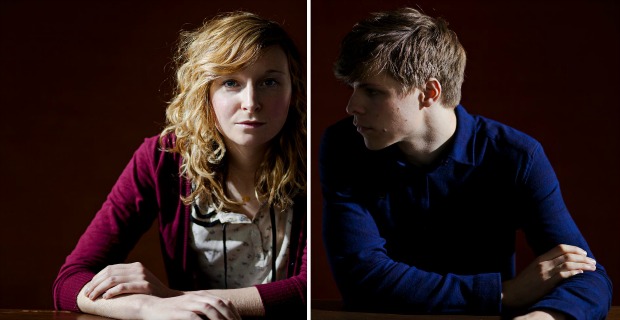 Manchester duo Cathy Wilcock and Chris Lyon have been playing music together since both were involved in the now defunct Edinburgh five-piece Mayhew. Their new project, Gymnast, retains some of the folk elements of Mayhew while imbuing the best of this year's current trip hop trend – a combination of cello and synths that surprisingly works while lending something stylistically different to the genre.
Since being selected from hundreds of unsigned acts in 2012 to perform at London's Olympic Park, the pair have recently released their debut EP Wild Fleet, the follow-up to EP Wait for the Dark with a Heavy Heart. The ten track LP features prevalently Wilcock on vocals, although Lyon makes a welcome and complementary appearance on 'Sirens', and the subtle overlay of boy/girl vocals around carefully treading electronics are reminiscent of the similarly emotive and understated Arthur Beatrice.
The album is full of quietly reflective moments that are also stirringly cerebral, which seems to be the goal of Gymnast, who have stated that there is 'nothing spontaneous' about the way the pair writes and records; a formula generally taking place over a long period of time to insure they achieve the sound they desire. Translating such an intricate body of work into a live setting is something Wilcock and Lyon have admitted to struggling with, and is perhaps the reason for their past eagerness in to play in rather unique and unexpected surroundings, including sets at both skyscrapers and ice cream parlours. It is a testament to the detailed interpretation of the duo that their music can seem to suit both.
In a nod to their preference for lengthy contemplation, one track per week has been uploaded to the band's Facebook page prior to the full release of Wild Fleet. Allowing the listener to gradually ingest songs that demand multiple listens in order to obtain a better grasp of the deep-seated evolution that spans the album, this has also done well in terms of elevating standout tracks by means of their individual separation.
Highlights of the album include 'Up In Arms', which displays most of the elements equipped in Gymnast's arsenal and some of the best lyricism, as Wilcock sings with soft devastation: 'love like lions | without meaning to | sink my teeth into you | when you come over we can tear it all to pieces | come closer'. Final track 'Culprits' also employs clever metaphors over an almost Lorde-esque beat, and 'Away the Sun' is a haunting falsetto-imbued track, with the line 'even the sun would say it's sink or swim' one not soon to be forgotten.
The pair have played several gigs with the equally hypnotic and darkly intriguing Shield Patterns (also hailing from Manchester), another duo involved with fellow Northern Gizeh Records (an indie label dealing in 'leftfield, ambient, alternative, experimental, electronic and modern-classical music', well-suited for Gymnast's sound). It appears to be an exciting and innovative time for the electronic pop scene in the North, and as with this record Gymnast clearly have demonstrated their expressive ability to craft a scene or state of mind that promises to leave the listener entranced, all we can do is eagerly await their next move.
Find out more about Gymnast here.
Words by Ruby Hoffman (@RubyBHoffman).
Keep up to date on all the latest Northern entertainment news by following us on Twitter, Facebook or Google+.