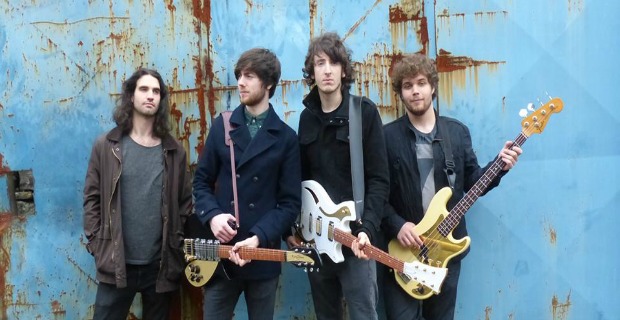 If you feel in the mood for a bit of quality rock music, but you've exhausted all your old favourites and you don't know where to look next – stop right there, you're in the right place.
Manchester four-piece Kelly's Heroes draw their inspiration from 'rock from all the eras', and they've come out swinging with the release of their first self-titled EP. The four track record starts of with riff-heavy old-classics styled rock tune "Struck y Lightning". For an opening track it's definitive statement by the band on who they want to be as artists. The second track "The Who Song" opens more steadily with quieter but more expressive lyrics. While the song might feature a guitar solo towards the end, throughout there more room for other instruments to breathe and come out than in the preceding track.
"Different Light", however, is definitely the high point of the album. More sophisticatedly structured, catchy and attention holding, it might be the shortest track but it's also the most musically interesting. Finally the last track is a live version of "Sucker For Your Love", again opening with a strong catchy riff and speeding up throughout, accompanied by loud distorted rock vocals. It's a bit of a show-off track in terms of guitar and vocals both but it's good fun and you can't deny the skill.
This is a band in their element, comfortable and maybe a little cocky with the songs they play and having fun as they do it. If you're in doubt of that, just listen to the very end of each song as the band, seemingly reluctantly, sign off their playing with a flourish. You can catch Kelly's Heroes live at Night & Day on the 18th November where they'll be taking part in a local band's showcase alongside Service of a Villain, Flame On and Sixty Minute Man.
Keep up to date with Kelly's Heroes on Twitter, Facebook and Bandcamp.
Words by Conori Blue (@ConoriBlue).
Keep up to date on all the latest Northern entertainment news by following us on Twitter, Facebook and Google+.