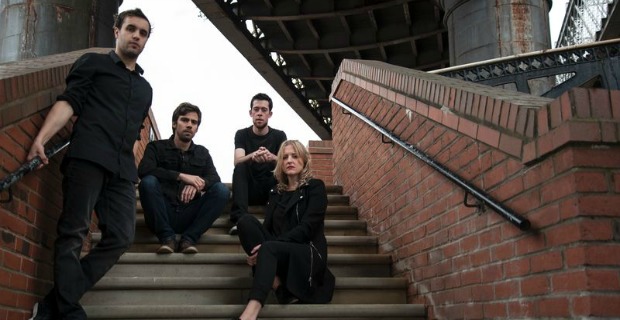 Noir | Noir are a 3-parts Irish, one-part South American alt-rock band who are now calling Manchester their home, but by the sound of things, the city that brought them together may soon struggle to retain them.
New single "Claustrophobic Love" (released February 16th) calls upon a Queens of the Stone Age-type groove to build a cinematic soundscape that demands complete immersion from start to finish. The drums rarely stray from the steady pounding rhythm, just occasionally breaking rank to enhance the unsettling nature of the music with skewed rolls that disorientate, only to welcome you right back into the fold as if nothing ever happened. Similarly, the guitar creeps in and out of shot and evokes thoughts of the unseen tormentor in many a thriller movie. Bringing to mind Marilyn Manson's more interesting work, this Rob Ellis (PJ Harvey, Bat for Lashes) produced debut single showcases the band's ear for a tune as well as penchant for the sinister side of things, with the Silence of the Lambs-referencing video providing the perfect foil for their sound.
The other available track from the four-piece, "Black Hats," comes complete with tribal drums and prog-leanings, all packaged in a 4-minute gem of a song. Inter-weaving instruments provide the perfect bed for the vocals to take centre stage, suggesting that the time spent honing their thundering sound wasn't at the expense of writing a song strong enough to launch a career off. You'll be hearing more from this lot.
Words by Tom Welsh (@TomWelsh109).
Noir | Noir play Night & Day Café in Manchester on February 26th. Buy tickets here. Find out more about Noir | Noir on their Facebook page.
Keep up to date on all the latest Northern entertainment news by following us on Twitter, Facebook and Google+.