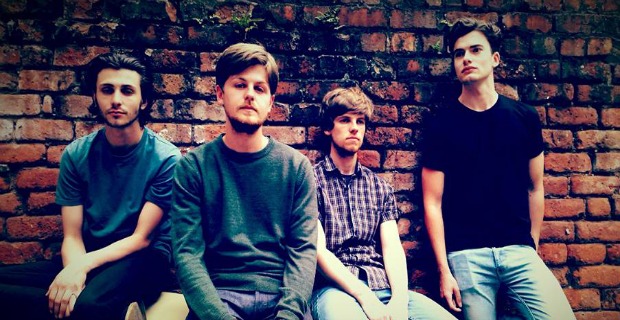 In a music scene brimming with the present trend of indie, synth and electronic outfits, Liverpool quartet the Levons emerge with their own fresh offering of tunes with debut self-titled EP The Levons.  The band, consisting of Nathaniel Cummings, Danny and Phil Murphy and Lewis McGuinness, all who have paid their dues as members of various other groups including Liverpool folk outfit the Sand Band, present a welcome and modern twist on classic rock and roll.
The band have made no secret of their 60s and Beatles influences (just have a scroll down their Facebook page, which is rampant with song clips from this genre), and it is clearly evidenced in initial track and first single 'The Other Guy'.  The most psych-inspired of the three tracks, 'The Other Guy' sees Cummings and Danny Murphy blend pleasant harmonies with an edge, singing about 'amphetamines that taste like strawberries' in correlation to a music video wherein the band, crowned in leather jackets and shades in the sun, play through an increasingly trippy set in the woods that suits perfectly Cummings' lyrics that 'there may be a light, brighter than the day'.
'Trouble' sees the Levons shift in genre to their more traditional folk-inspired roots and despite the lamentations mused about in 'Trouble', there is an unmistakably joyful collaboration of vocals and instrumentals that engage with the listener and suggest a real treat in a live setting.  The commendable versatility of the Levons continues to remain indicative on the EP's final track, 'Trainwreck', which draws easy comparisons to the Black Keys, featuring sultry guitar riffs and Southwestern America vibes that transport the listener to a different era."
The Levons is released under Electone Records, self-described as a 'Liverpool-based independent record label dedicated to supporting 60s-inspired psyche, garage and folk music'.  The band quite clearly is a perfect fit for the label, with a foot between all three genres while reinventing one of their own.  The Levons' departure back to the pop sensibilities of rock and roll, appropriate especially considering they hail from a place steeped in this tradition, displays them as assured forerunners on a musical path that has been shed with new relevancy.
The Levons' self-titled EP can be bought on iTunes here or Bandcamp here.
Contact The Levons on Facebook and Twitter.
Words by Ruby Hoffman (@RubybHoffman).
Be sure to 'like' us on Facebook and follow us on Twitter to keep up to date with all the latest Northern entertainment news!