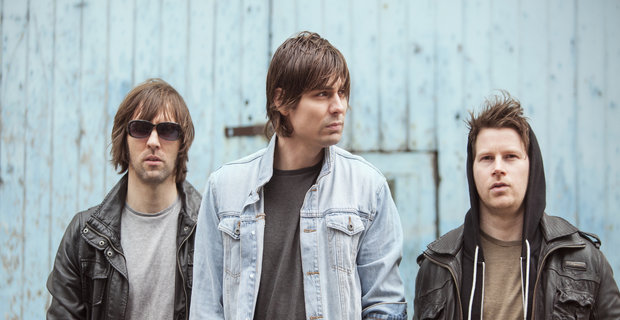 A while back there was this band, they were called The Jude, who put out a rocking single and were being talked about all over the radio – everyone loved 'em. As an unsigned band they were in all the right places and looking set to be a 'next big thing'. Then they broke apart and vanished off the radar. Why is this important? Well, because from the ashes of that band comes a brand new one – formidably named indie rock trio Treacherous Dogs, and they're back with a vengeance.
A raw heavy sound fed into by eclectic Northern soul, 70's garage rock and good ol' fashioned rock n' roll influences characterises the band's first material. Planning on releasing an EP late this year, the London-based group currently have three tracks on display to show off their new sound. First up is "Unless I'm Mistaken", probably the most laid back of the tracks, drawing on more heavily on Northern soul sounds but topped off with heavy rock strumming and the odd twang of a more surf rock side of things. It's a good song to start off with, not least because it gives room for lead vocalist Lewis Parker to really get into the swing of things.
However, it's following track "Maybelline" that's without a question the stand-out track so far. Catchy guitar hooks and non-stop intensity sweep you along in a simple but classically strong rock song that offers some knock out sing-along (or shout along) moments. Plus an epic end refrain complete with an equally epic fade-away last note. Think Foo Fighters meets the Killers with extra indie rock sauce. A third demo track is offered up in the form of the heavier harsher "Slave". Starting off with a riff reminiscent of an earlier Arctic Monkeys, the track quickly builds to a dark drum-powered peak.
This sort of raw rock sound is one that's put to the test in live shows – and if it works live, then it really works live. So it's a good thing that the Treacherous Dogs are touring their way through Manchester next week, playing the Roadhouse on May 9th.
Words by Conori Bell-Bhuiyan (@ConoriBlue).
Be sure to 'Like' us on Facebook and follow us on Twitter to keep up to date on all the latest Northern entertainment news!