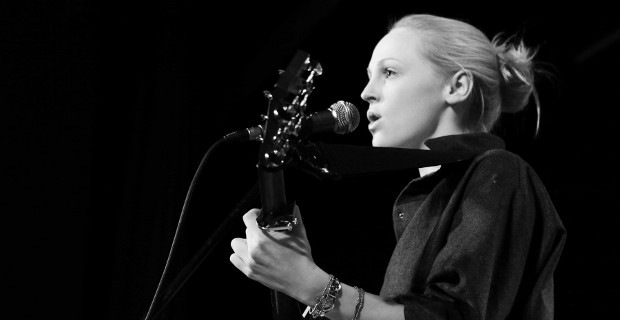 After releasing third album, A Creature I Don't Know, in September of this year. Laura Marling is cementing her place as one of the most talented solo artists this county has produced in the noughties.
 Her success has brought mainstream attention to the once endearingly shy songstress. Her two previous albums, Alas I Cannot Swim and I Speak Because I Can, were both nominated for the Mercury Music Prize and, this year, she even won a Brit Award – adding further to her popularity.
 After being a part of the original Noah And The Whale line up and riding the 'nu-folk' wave along with Mumford & Sons she has set herself apart with a sound that has its influences, (with Joni Mitchell the obvious comparison) but is incredibly unique.
 She's had a busy year having done a tour of some of Britain's best loved Cathedrals as well as playing at a handful of festivals including Glastonbury, Green Man, and The End Of The Road.
 Hopefully she will have a nice break over Christmas and New Year as 2012 sees her  embark on her biggest UK tour to date. Having played Manchester Town Hall in 2009 she now gets to headline at the Apollo. Known for her intimate performances, it will be interesting to see if she can keep that feeling when playing to such large audiences.
 Words: Daniel Savage
 Tour Details
March 2012
Thursday 1st              Cambridge Corn Exchange                         01223 357 851           
Friday 2nd                   Birmingham Symphony Hall                       0121 780 3333
Saturday 3rd               Bristol Colston Hall                                      0117 922 3686
Monday 5th                 Gateshead Sage 1                                         0191 443 4661
Tuesday 6th                Leeds O2 Academy                                       0844 477 2000
Wednesday 7th           London HMV Hammersmith Apollo           0844 844 4748
Friday 9th                    Manchester O2 Apollo                                  0844 477 7677
Saturday 10th             Glasgow O2 Academy                                  0844 477 2000
Sunday 11th                Stoke Victoria Hall                                        01782 213 800
Tuesday 13th              Nottingham Royal Concert Hall                  0115 989 5555
Wednesday 14th         Southampton Guildhall                                02380 632 601
Tickets are £18.50/£25
(£18.50 Cambridge, Bristol, Leeds and Stoke)
(£17.50/£19.50/£26.50 London)
Tickets go onsale Friday 9th December at 9am – 24 cc hotline: 0844 811 0051/ http://www.gigsandtours.com/?a=laura+marling&site=lauramarling