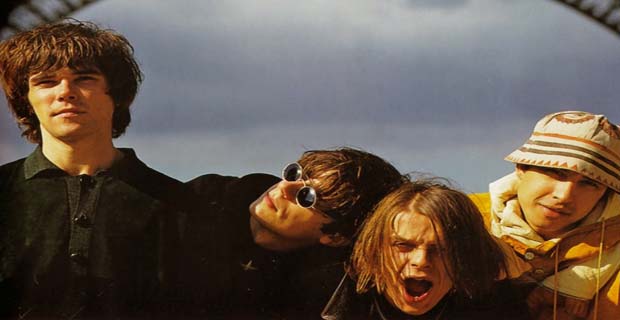 The Stone Roses have reunited after a 15-year absence.  Earlier today the highly influential Manchester band unveiled plans for two shows at Heaton Park next year before heading off on a world tour.  Speaking at a London press conference, singer Ian Brown confirmed that he and guitarist John Squire have patched up their rocky friendship and hope to begin work on a brand new record soon.  The complete Stone Roses line-up including Brown, Squire, Gary 'Mani' Mounfield and Alan 'Reni' Wren were present for the announcement.
Their upcoming Manchester shows, scheduled for the 29th and 30th of June 2012 will mark the first time these Northern icons have played together for 16 years. Having burst onto the British indie scene in 1989 with their self-titled debut, their psychedelic sound instantly found a dedicated following in the rave craze of the 90's.  However their new found success was soon plagued by legal battles with their label Silvertone which stopped them from releasing new music until the case was settled.  After signing with Geffen, Second Coming was finally released in 1994 but it wasn't long before drummer Reni and guitarist Squire decided to jump ship.
Reunion rumours have followed each band member in the years since their split, but always left fans disappointed.  That is until, today.
Tickets for The Stone Roses live at Manchester's Heaton Park go on sale on Friday at 9am.
Words by Simon Bland.