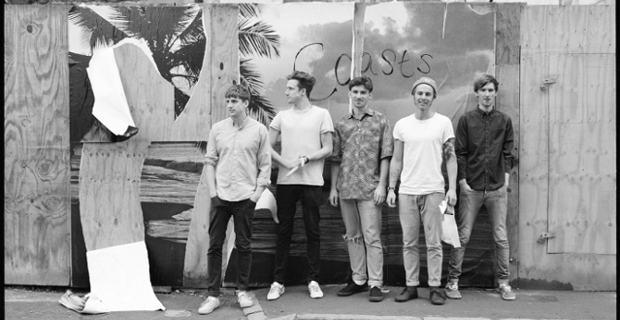 We're very excited to announce that Bristol's tropical-indie five-piece Coasts are going to be playing for us on 21st October at The Castle. Last time they came to Manchester they brought huge sun-drenched tunes and an even bigger palm tree as standard touring material, so expect a one off, massively atmospheric intimate show this time around.
The band released their debut single 'Oceans' last year – which has now garnered over 200,000 youtube views – and spins on Radio 1 from Huw Stephens and Zane Lowe. Go on, add yourselves to the Youtube plays by having a listen below…
Since then they've toured the UK, Europe, and released their first EP. Live, they're tighter than ever,and they're coming back with a new single set to generate more exposure. They always put on quite a show. Expect visuals, bags of energy, plus what the band themselves describe as 'a cohesion of tribal drums, tropical strings, thundering keys, and lost cries'.
Coasts are a band with simple, but lofty ambitions: to create music to mesmerise and win the hearts of the masses. Come check 'em out. Tickets are only £5 if you buy in advance here (and the booking fee's only 50p too)…
http://www.seetickets.com/event/coasts-special-guests/the-castle-oldham-street-manchester/725631
Not convinced? Listen to their 'Paradise EP' here and change your mind…  http://soundcloud.com/coastsband/sets/paradise-ep-stream
Words: Simon Butcher (@sbutcher1)